FC Soualiga Women's Soccer Team, was established in April 2013 and is, as of August 2014, officially established as the Soualiga Soccer Association. FC Soualiga hosted its first very successful International Women's Soccer Tournament on October 19th and 20th, 2013. During this tournament, teams from the likes of St. Barths, Curaçao and Trinidad participated. This tournament was of a small scale with 6-a side games at the Johan Cruyff Court in Belvedere. This time around, considering the previous great success, and with the Raoul Illidge Sports Complex being of availability and a prime location for such an event, the opportunity for an official tournament with 11-a side games arose. FC Soualiga will therefore be hosting its Second Annual International Women's Soccer Tournament during the weekend of October 25th and 26th, 2014, at the Raoul Illidge Sports Complex in Cay Hill. Teams from around the region will be participating, with an opening match on Saturday night starting at 6pm, Sunday morning the following matches will proceed at 10 am and at 6pm with a closing ceremony at 9pm.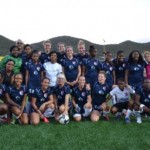 FC Soualiga has been honoured to have been supported in this endeavour by the local community, as businesses such as their corporate sponsor Princess Juliana International Airport, and businesses such as Divi Little Bay Beach Resort, Sint Maarten Building Supplies, Travel Planners, The Windward Islands Bank, The Holland House Beach Hotel, Heavenly Waters, and Majula Corp have on this occasion and on previous occasions provided the team with much needed help. Without their generous donations, the many activities and accomplishments FC Soualiga has thus far achieved could not have come to fruition.
The Soualiga Soccer Association hereby calls out on all sports lovers to come out in full force to support Sint Maarten's very own FC Soualiga battling against other regional teams this coming weekend. It will be a fun weekend activity for all. More information about the event will be posted on facebook page: FC Soualiga.