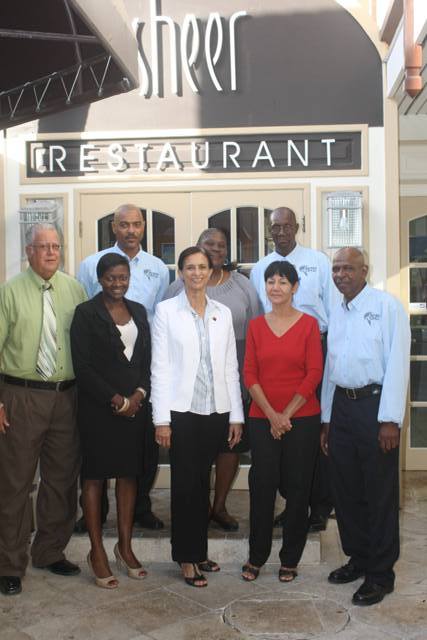 Celebration of Public Service
Civil Service is About Working for the PeopleThe Prime Minister of St. Maarten the Honorable Sarah Wescot-Williams surprised members of the Economic Affairs department Inspection Unit and Extra-Ordinary Police Officers Swearing in Ceremony at Sheer Restaurant on Friday. The Prime Minister in particular congratulated Claudette Labega and Mario Hodge who had their retirement party at the Friday afternoon function.
"I want to say thank you to Claudette and to Mario for their contribution and also to those who will be celebrating their 25 years in Government for their contribution and their sacrifice for Our Country. I would also like to thank the Inspection Department head Mrs. Thewet for recognizing the service her employees have given and their contribution. I think too often in Government we overlook the contribution of the workers to St. Maarten and it is important that we do so here this afternoon."
The Prime Minister also commented that she herself will be celebrating forty years in Government this year, indicating with a smile that she started very young; "I would like to encourage the young Civil Servants to realize that public service is really a rewarding service in serving the people of this Country. If that is your goal you cant go wrong in Government. We have faced and will face many challenges but with the knowledge that you are doing something for the people of St. Maarten that is all the reward you need. God bless you and keep up the good work. The Prime Minister encouraged all to partake fully in the food and desserts made available to them at Sheer and "having said that I hope to see you in the U2 Can Move Zumba Classes soon," concluded the Prime Minister.