Anguilla, BWI (February 23 2016):  Anguillan Reggae Band, British Dependency will perform at the 9th edition of the African Performing Arts Market (MASA), to be held in Abidjan, Côte d'Ivoire March 5-12, 2016.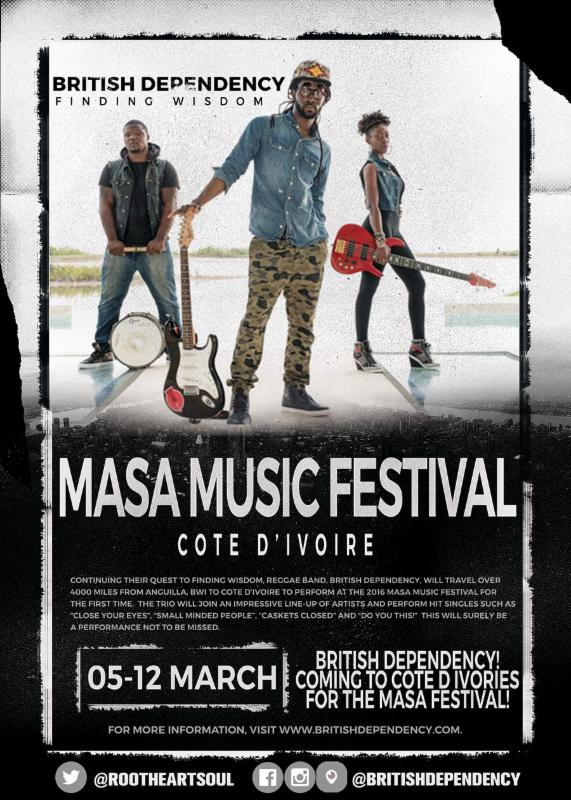 Created in 1993 by the Intergovernmental Agency of the Francophonie, the Festival of the Arts Market for African Performing (MASA) focuses on African performing arts (theater, music and dance) held every 2 years in Abidjan.  Because of the crisis in Cote d'Ivoire, Masa was canceled between 2007 and 2014.  Under the theme "Reinventing the Performing Arts"the festival will feature more than 2,000 groups and artists.  Africa News writes, "The festival has in the past been attended by thousands of enthusiastic supporters in the Ivorian capital and has become an important feat that showcases the creation of a contemporary African event."
The Band's manager, Davon Carty states,"We are honored to have been invited to perform at such an important and esteemed event.  The fact that we will be sharing a stage for some of the world's most talented acts from the region is just mind-boggling.  We are looking forward to performing and doing what we do best."
ABOUT BRITISH DEPENDENCY
Hailing from the British Isle of Anguilla, British Dependency brings Roots, Heart and Soul to Reggae music by fusing various genres with their three-piece ensemble, drum, guitar and bass. Their unique and eclectic sound appeals not only to those with a discerning musical palate but also those who are avid reggae fans.
Adding to their vintage sound is a fresh take on the overall feel and look of the band which consists of Anguilla's first female bass player, Joyah along with drummer, Jaiden and lead vocalist and guitar player, Ishmael. On November 19, 2013 the band released their debut album, Finding Wisdom and to promote the album, the band performed live in New York and throughout the Caribbean.  Thereafter the band embarked on an East Coast and West Coast tour opening for legendary reggae band, The Wailers.
In 2015 the Band worked with music producers Collin "Bulby" York and Dwayne Anglin on "Close Your Eyes the first single off their untitled sophomore album to be released in late 2016.
For more information about British Dependency, visitwww.britishdependency.com.