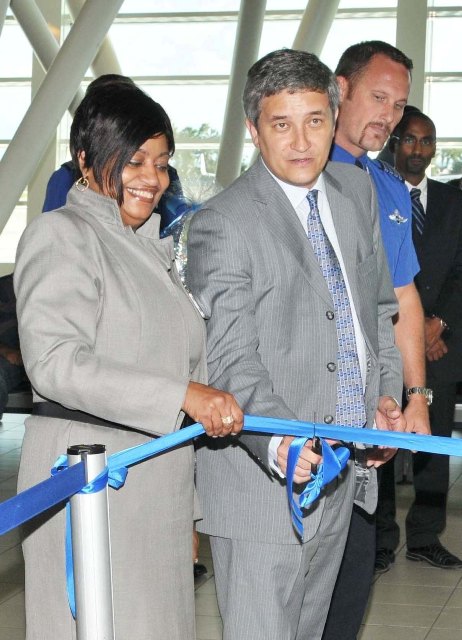 Welcome Address at JetBlue Inauguration of San Juan – SXM Route by Regina LaBega, Managing Director, PJIAE
Distinguished Guests,
Ladies and Gentlemen,
It is not often that one gets to welcome the same airline once, twice and maybe even three times to our island, so it gives me great pleasure to welcome JetBlue back home, for if home is where the heart is, I have no doubt JetBlue's heart is in St. Maarten.
Starting with its inaugural flight from New York, quickly followed by service from Boston, and now with this daily flight from Puerto Rico to Princess Juliana International Airport, JetBlue has proven to be a perfect and loyal match for our destination.
When some were screaming about the need for guaranteeing seats, JetBlue focused on strengthening its relationship with St. Maarten. It is a relationship that has been growing by leaps and bounds, to the extent that it could now be said that JetBlue has changed the landscape of tourism on the island.
It has accomplished this, in my view, through its on-time performance and by offering customers a better experience and better amenities. It has also focused on technology with a customer-friendly website while distinguishing itself through its award-winning customer service and by just being different.
Like a trusted friend, JetBlue quickly responded to a void in the market not only in St. Maarten but throughout the entire sub-region. JetBlue will continue to make travel more accessible from Puerto Rico to St. Maarten and vice-versa, as it provides a convenient and efficient travel option for a wide range of users of this airport. This daily route, I understand, will soon increase to at least three flights daily. That is among the reasons why partnering with JetBlue was the most efficient and strategic option we could have taken.
Let me end by thanking all those who made this new service possible. In particular, I want to highlight the role played by our Minister of Tourism, Economic Affairs, Traffic and Aviation, the Honorable Mr. Franklin Meyers, who not only believes in and appreciates the synergy with JetBlue, but also refused to buckle even under undue pressure.
I want to also thank Deputy Prime Minister, the Honorable Mr. Theodore Heyliger, who is responsible for the Airport, for his leadership and continued guidance.
Welcome back home, once again, JetBlue! You're once, you're twice, you're three times a lady… I thank you.