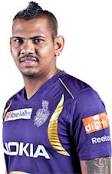 St John's, Antigua –The West Indies Cricket Board has saluted West Indies off-spinner Sunil Narine on his recent elevation to the number one position in the ICC One-Day International Rankings. In a message of congratulations, WICB President Mr Dave Cameron also urged the young spinner to maintain his high standards.
Narine, who turned 25 late last month, enters the ICC Champions Trophy 2013 in the top spot ahead of Pakistan's off-spinner Saeed Ajmal. The two slow bowlers will face each other when the West Indies play against Pakistan at the Oval on Friday in the opening Group B match.
Narine now commands the top spot in two formats – having climbed to number one in the ICC T20 Bowling ranking earlier this year.
"On behalf of the WICB's board of Directors, Management and Staff as well as the entire Caribbean cricketing family I want to congratulate Sunil on this achievement in his cricketing career. It is great to see one of our West Indian bowlers commanding the top places in two formats. He has been brilliant for the team in his short career and we know he will get even better," said Mr Cameron.
Narine has been sensational since he made his international debut back in December 2011 in India. He has played 28 matches and taken 47 wickets at an average of 21.68 runs per wicket. Last year he won the ICC Emerging Player of the Year award.
"He is at the top of his game and is doing a really good job for the West Indies team. In a short period at the international level he has established himself as one of the best bowlers in the modern game," Mr Cameron added. "We want to encourage Sunil to continue his great work and reap more success for himself and West Indies cricket".