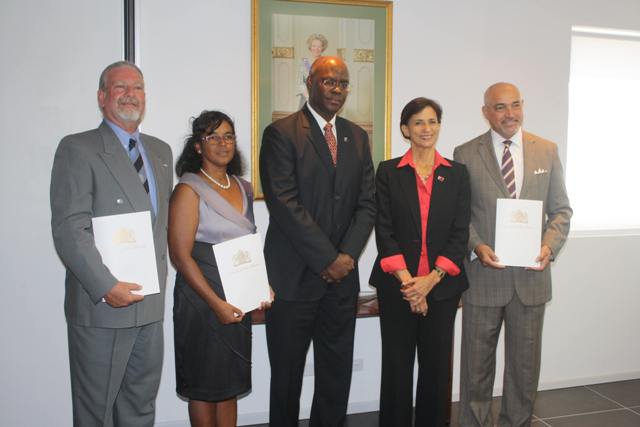 "Heartened by focus on youth"
The Prime Minister of St. Maarten the Honorable Sarah Wescot-Williams joined the Governor of St. Maarten His Excellency Eugene Holliday in his presentation of the Orange Bow Awards to three organizations for their work in the community to mark the inauguration of King Willem Alexander.
Orange Bows were awarded to the No Kidding with Our Kids Foundation for the Crown Carousel After School Activity, the St. Maarten Soccer Educational Foundation for the youth soccer tournament as part of the King's Games, and SIMARC for the project "Dream of a more Heritage Conscious St. Maarten, where youngsters will repaint the information signs at Fort Amsterdam. The Prime Minister joined the Governor in presenting the Orange Bows to the organizations and offered warm congratulations. "I would like to express warm congratulations to all of you for your work and especially in your participation in this once in a lifetime project. It is heartwarming to see that the focus of all of these activities is on the youth of St. Maarten and it is encouraging to know that these projects all invest in the youth of St. Maarten and therefore also in our future. I again would like to congratulate you and look forward to seeing your projects in the days and weeks to come," commented the Prime Minister.