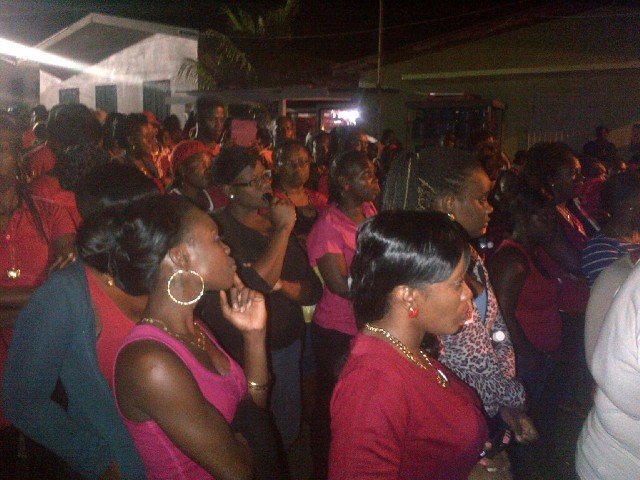 BASSETERRE, ST. KITTS, (CUOPM) – The soon to be introduced National Health Insurance scheme and a long service gratuity for employees working in the manufacturing industry were issues raised Thursday night by Minister of Health, Social Services, Community Development, Culture and Gender Affairs, the Hon. Marcella Liburd.
"I want to mention the National Health Scheme because soon, all the people in this country will be covered by health insurance. You have a good government. The other thing has to do with those workers who have no pension and for those persons this government will be introducing a long service gratuity for those who have put in 10 years or more," Minister Liburd told a mammoth meeting of the governing St. Kitts-Nevis Labour Party in Mansion.
She referred to the efforts of Celia Christopher to implement a long service gratuity for workers.
"We have to thank a lot of people on the Industrial Estates because they started that fight and Celia Christopher thanks to her for starting that fight, but this wouldn't just affect the people on the Industrial Estates. It will affect the people in Horsfords, RAMS and all those other places where there is no pension for the workers," Ms. Liburd said.
"So all the workers who have no pension will now benefit from a long service gratuity thanks to this Labour Government – a working class organization looking after the loyal workers in this country and all of this is because of the 2013 Budget and they (opposition) fought the budget tooth and nail. They didn't want the Budget to be passed, because they didn't want you to get all of your benefits," said the lone female Minister of Government in the governing Labour Administration.
Photo: Youths were among the mammoth meeting in Mansion Thursday night. (Photo & Story by Erasmus Williams) .