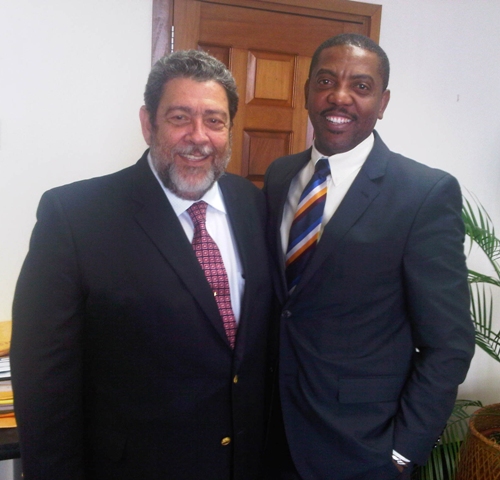 St John's, Antigua – President of the West Indies Cricket Board Mr. Whycliffe 'Dave' Cameron last week continued on his initiative to meet with Heads of Government of the Caribbean to discuss matters regarding the development and improvement of cricket in the region.
On Thursday June 13 last President Cameron met and had discussions with Prime Minister of St Vincent and the Grenadines, The Honourable Dr. Ralph Gonsalves in Kingstown. One day later President Cameron met with Prime Minister of Grenada, The Honourable Dr. Keith Mitchell in St George's.
"These meetings are crucial in setting the framework with the political leaders of the region towards ensuring that they are fully briefed on all matters relating to the regional sport. It is critical that we at the West Indies Cricket Board keep the leaders of each of our countries informed with regard to our plans and programmes and that they are aware of the challenges and difficulties which we face. It is also valuable to have their perspective on what they think are the issues regarding the sport," noted President Cameron.
"We shared thoughts, ideas and suggestions and at the next meeting of the Board, I will share with my team. We value the inputs as we are strategically looking to reposition cricket," President Cameron said.
"I wish to thank Prime Ministers Drs Gonsalves and Mitchell for taking the time to meet with my team to have frank and open discussions and especially thank them for certain commitments which they have each made to support the growth and development of West Indies cricket," President Cameron continued.
President Cameron was accompanied by WICB Chief Executive Officer Michael Muirhead and Company Secretary Verlyn Faustin.
Since being elected, President Cameron has either paid courtesy calls or met with the Prime Minister of Jamaica, The Honourable Portia Simpson-Miller, President of Guyana, His Excellency Donald Ramotar, Prime Minister of St Kitts and Nevis, The Honourable Dr. Denzil Douglas and Prime Minister of Dominica, The Honourable Roosevelt Skerrit. President Cameron also met with The Honourable Stephen Lashley, Minister of Sport of Barbados.