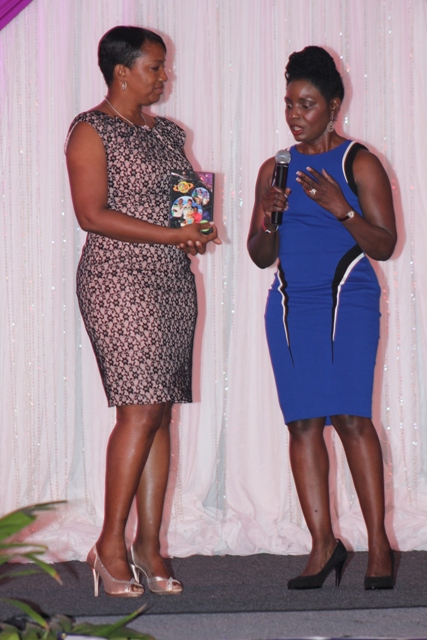 PHOTO CUTLINE: L to R, Minister Silveria Jacobs accepting the DVD from Dr. Ro. DCOMM Photo
In a surprise presentation at the International Women's Day Program hosted by Prime Minister Hon. Sarah Wescot-Williams at the Sonesta Maho Convention Center on Friday evening, Dr. Ro Brock presented the Minister of Education, Culture, Youth and Sports Affairs Hon. Silveria Jacobs with a DVD of Dr. Ro's Fit Kidz – The Nutrition and Fitness Show.
This DVD is geared towards encouraging and teaching elementary students about the importance of exercise and a healthy lifestyle in their lives using a space theme where students assist Dr. Ro in bringing the message.
The Minister was honoured to receive the Fitness and Nutrition DVD which includes Season 1 episodes one through eight from the esteemed nutrition coach.
Minister Jacobs acknowledged that St. Maarten's Government welcomes all efforts which promote physical education and health in the schools. This domain is well defined in the curriculum of Foundation Based Education and the DVD will be a welcome learning tool for educators, physical education instructors and especially the students due to the animated nature of it.
Public Schools will be given the opportunity to test drive the program and give feedback, though there were other school board representatives in the audience who later also expressed their interest in previewing the fitness program. The Minister will make it available for other school boards to test as well after the initial trials are done.
Minister Jacobs thanked Dr. Ro for the very inspiring, informative and motivational presentation to the women in the audience and welcomed the opportunity for further dialogue in the area of physical fitness and health in schools.
Minister Jacobs commends the Prime Minister and the organizing committee for putting together a program highlighting St. Maarten's talented youth and women as well as Dr. Ro in celebration of International Women's Day 2013.