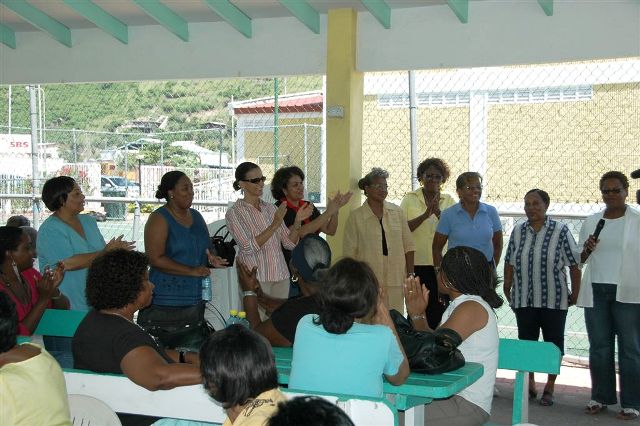 The event was a success, we had 28 participants. Thanks to the First Caribbean bank who made it possible for especially the grass rout children to get a chance to learn and play the game of tennis. This time around we had participation of St. Kitts who took part with 6 Athletes.
The Competition was opened with the celebration of the upgrading of the Tennis courts at the Raoul Illidge Sports Complex. Big thanks goes out to the St. Maarten Tennis club who has big plans in future development of Tennis on St. Maarten, in particular geared towards the youth. A Tennis development plan has been put together for this matter.
First round of play took place at the Port de Plaisance Tennis Facility & Spa. Much thanks also goes out to the management of Port de Plaisance for assisting us with the use of their courts. We are looking forward to their continuous support. The tournament was a success but still there is room for more improvement. When revisiting the signing sheet we observe that the female participation is poor. Fewer females are coming out to these events, we the organizing committee must find a way to better this situation.
On another note: The results had an unexpected outcome due to the fact that our guest coming from St. Kitts had to leave after the first round and could not finalize the tournament. To better that situation in the future we are looking at starting the event much sooner, which will also creating space to offer the visitors the opportunity to do some shopping, and or to see part of the Islands sights.
All in all a relationship has been fostered between St. Kitts and St. Maarten Tennis academies for future exchanges in the sports of Tennis. Next encounter will take place every three mounts, whereby the event is hosted by St. Kitts or St. Maarten.
The Tournament was split up in Five Brackets, in male as well as female categories.
1. Beginners

2. 10 & Under

3. 13 & Under

4. 15 & Under

5. Open Category.

 
The strongest duels were forth in the Open Category Male: between Jason Smith an under fifteen athlete who defeated Quasime from St. Kitts in the first round, with the score 4 – 3 in a best of seven games . Quasime was the better player but lost his cool against Jason. In other matches in this category you had Joris verschuren from St. Maarten playing against Kimitri from Anguilla, Kimitri won 4 to 3.
In the Under 15 category Leshawn Brown played Dwayn Jollie, score 4 to 2 for Leshawn.
Overall results of all the other brackets are as following:
· Beginner Under 10 – Winner Quair Hodge – sub champ Jeremiah Rombley.

· Under 13 – Winner Leshawn Brown – Sub Champ Dwayn Jollie.

· Under 15 – Winner Jason Smith Sub Champ Raymond Rombley.

· Under 17 – Joris Verschuren – Sub Champ Sheldon Shiverton St. Kitts.

· Open Class – Quasime St. Kitts. – Sub Kimitri Anguilla.

· Open Class Girls: Shannella St. Kitts – Sub Champ Emmy Fraenck.
The LAB SPORTS ACADEMY WOULD LIKE TO THANK:
1. THE FIRST CARIBBEAN BANK.

2. PORT DE PLAISANCE.

3. ST. MAARTEN TENNIS CLUB.
FOR THEIR GENEROUS SUPPORT IN MAKING THIS EVENT POSSIBLE.
LAB SPORTS NEXT EVENT WILL BE IN TWO MONTHS TIME:
THIS WILL BE THE NINETH ANNUAL DIAMOND INTERNATIONAL
YOUTH TENNIS TOURNAMENT.
WE ARE LOOKING FORWARD TO A PARTICIPATION OF OVER FIFTY ATHELETES
COMING FROM: MAHO TENNIS CLUB – ANGUILLA TENNIS ACADEMY – FRENCH AMERICAN TENNIS ACADEMY – SIMPSON BAT TENNIS CLUB – PORT DE PLAISANCE – ST. MAARTEN TENNIS CLUB AT RAOUL ILLIDGE & LAB SPORTS ACADEMY.