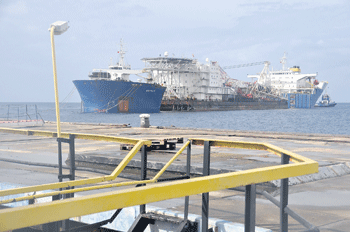 WILLEMSTAD — The TOG MOR – the inland navigation vessel that is equipped with two large cranes and meant for laying down pipelines – will make the crossing to the Netherlands.
NEWS ARTICLE TAKEN FROM WWW.AMIGOE.COM
This is the TOG MOR's third visit to Curaçao. It has been moored at Caracasbaai for more than one week already. The semi-submersible ship Osprey will be transporting the inland navigation vessel because the latter is not equipped with a v-nose and does not have sufficient capacity. The TOG MOR was transferred to the Osprey around nine o'clock Monday morning.
The TOG MOR belongs to the Allseas Group and has performed activities in Trinidad several times during the past year. The ship is called in when pipelines have to be laid down.
The inland navigation vessel from the TOG MOR is equipped with propellers and engines, and can move forward, but it is not meant to bridge last distances. The TOG MOR is 111 meters long and offers accommodation to 112 crewmembers. It is equipped with two cranes: one of 300 tons and one of 79 tons.
Of 200 projects, the Allseas Group has laid down pipelines over a length of more than 14,500 km to-date. The last time that the ship with two cranes had visited Curaçao, Kompania di Tou Kòrsou (KTK) received the order to tow it to Trinidad.
The Osprey is a semi-submersible ship and can submerge 10.5 meters above deck. By using this method, the ship can transport huge ships and platforms. The ship offers accommodation to thirty men. The Osprey – with a deck length of 156 meters – arrived yesterday morning around eleven o'clock and was anchored in the middle of Caracasbaai until Monday morning.
KTK remained stand-by for 24 hours to assist just in case the ship could not hold its position, for example due to weather conditions. Brackets were weld and placed today because the TOG MOR must be secured on the Osprey properly before the crossing can take place. According to plan, the Norwegian ship will start the voyage to the Netherlands.
NEWS ARTICLE TAKEN FROM WWW.AMIGOE.COM