The Minister of Justice, the honorable Cornelius De Weever honored all members of the Sint Maarten Police Force, on Thursday June 14th during a ceremony held at the Police Head Quarters in Philipsburg. The members of police force were awarded a certificate of appreciation as well as a gold medal for their hard work and contributions in the aftermath of hurricanes Irma and Maria.
The certificate states: "In acknowledgement of your exemplary contributions and assistance rendered as a member of the Sint Maarten Police Force in the aftermath of the 2017 hurricane season. We recognize your commitment to serving and protecting your community and the island of Sint Maarten."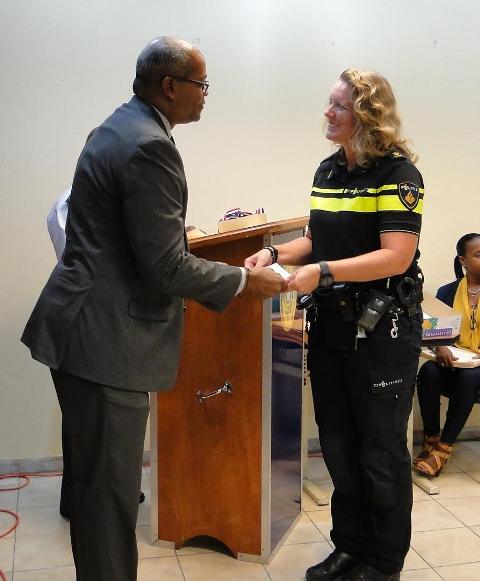 The Minister of Justice would also like to thank the police force of Curacao (KPC), the police force of Aruba (KPA) and the National Police Force of the Netherlands for their support, their tremendous input and going the extra mile to help maintain safety and security and get the island up and running again.
Finally the honorable Minister of Justice expressed his sincere gratitude for the work the police did then and the work they continue to do on the daily basis.