The Ministry of VROMI hosted a waste forum last week Thursday, which was moderated by Mr. Jan Beaujon. The forum, which carried the theme, "No time to waste," attracted a full house of attendees at the government administrative building. The Honorable Minister of VROMI, Mr. Miklos Giterson, welcomed attendees and encouraged their participation in the pressing matter to solve the "smoking monster," which has long haunted the progress of Country St. Maarten.
The forum included presentations and discussions with the aim of sharing information, gaining insight from stakeholders and potentially reaching a consensus on the way forward in the area of waste management on Sint Maarten. To start the forum and encourage informed discussions, five presentations were held by speakers, whom are involved in various aspects of the issue of waste management.
The first presentation, delivered by the head of the Department of Infrastructure Management, Mr. Claudius Buncamper, focused on the existing situation, with a bird's eye view on physical and financial challenges. Mr. John Morton of the World Bank provided insight into the planned debris removal projects post Hurricane Irma. This included the 'second Irma landfill' and further removal of the boat wrecks in the Simpson Bay Lagoon.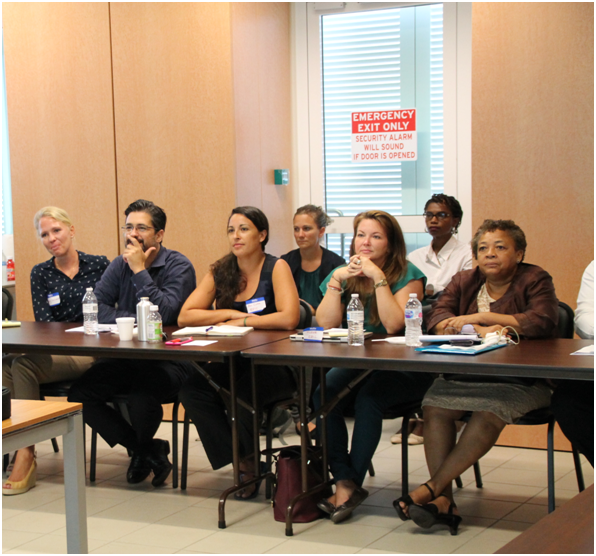 The Public Prosecutor's office contributed to the forum with a presentation by Mr. Jeroen Steenbrink and Mr. Jeroen Kuipers that raised awareness around their legal concerns surrounding the landfill. Roel van de Loo of SPPS consultants, who was contracted by the Infrastructure and Water Ministry of the Netherlands, conducted a quick scan on the waste issues on St. Maarten, including Saba and Statia. As a result he displayed various scenarios on the methods of approach for tackling the waste problems on Sint Maarten. Finally, Ms. Candia Joseph, Country Manager for the Government Accountancy Bureau (SOAB) gave a presentation on the possibilities of establishing a Waste Authority for St. Maarten.
The second part of the forum entailed a Q&A and deliberations on the immediate and long-term needs to alleviate current waste challenges and best practices for future waste management. Various entities contributed their expertise from their respective fields, which included input from Sint Maarten Hospitality and Tourism Association (SHTA), GEBE, the Sint Maarten Police, Environmental Protection in The Caribbean (EPIC), the Public Prosecutor's office, The Social Economic Council, the World Bank and Ministries VSA, Justice, and General Affairs, as well as delegates from the Representation of the Netherlands on Sint Maarten.
Clear consensus was drawn on identifying a new narrative for the approach towards waste, recycling and establishing legislation that could encourage reduction and a change in general behavior. The improved management of current landfill is also regarded as a top priority. The forum sparked necessary action from all participants, which will result in a follow-up meeting to further discuss issues pertaining to the strategic and long-term management of waste.