With a small ceremonial command transfer on the Marin-based Parera field of activity, the 25-year-old landmap Compagnie in the West (CIDW) took part in the Monday morning farewell to Curacao. This rotation has been on the island since July 3, and has been used by its regular training program on the upper winds of Saint Maarten, Saba and Saint Eustatius after being hit by several hurricanes.
The ceremony was attended by the Commander of the Navy in the Caribbean, Brigadier General of the Marines De Vin, and the permanent staff of Marin Base Parera. Departing Company Commander Captain Yoeri of the 11 Alpha Airbus 'Alfa-Java' Infantry Company, reflected in his speech in the intensive period. He thanked his unity, the permanent staff and the general for the past period. In addition to the emergency relief provided, rotation 25 has repeatedly supported the police with ongoing investigations. There have also been several exercises in collaboration with the KPC, VKC and the Curaçao militia. The Crowd & Riot Control exercise last August, right in the center of Punda at Fort Amsterdam, was an initiative of the KPC where Defense would like to join.
The new land power company [rotation 26] arrived Monday at Hato Airport. These so-called 'Stoters' come from the 13th Infantry battalion 'Regiment Stoottroepen Prins Bernhard' from Assen and is a sister unit of the last rotation. The new company commander Captain Elwyn indicates that the Caribbean is unaware of its unity. Until recently, he was also deployed to Sint Maarten with his unity to provide emergency relief. "This region offers a wide range of training opportunities and the climate also creates a different dimension in our efforts. We want to make good use of this, "says the new company.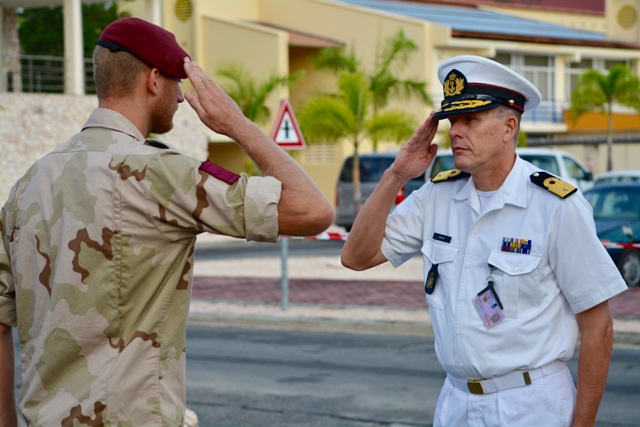 CIDW
The CIDW is provided by the Royal Army and is part of the Presidency of the Caribbean Defense. The Land Force Company alternates every four months and is commanded by the Commander of the Navy in the Caribbean. To ensure the readiness, every rotation follows an intensive training program on Curacao, Aruba and Bonaire. Important learning goal is to operate in hot and dry areas. In addition, the unit is available for support of local authorities or emergency relief in case of its presence
Appendix:
20171106_CIDW paddle transfer 1:
20171106_CIDW paddle transfer 4: