Heartfelt tributes far and wide for 38 years of service
TelEm Group workers, both old and new put on an amazing show of affection for retiring colleague, Stanley David, during a heartwarming surprise celebration  Friday last.
Billed as a small farewell event from his co-workers in the company's Customer Care Department, the event turned into a "Hollywood-type" production with photo slide shows, video tributes, recorded messages from overseas, songs and kind words from family, friends and TelEm Group's top executives, including CEO Kendall Dupersoy.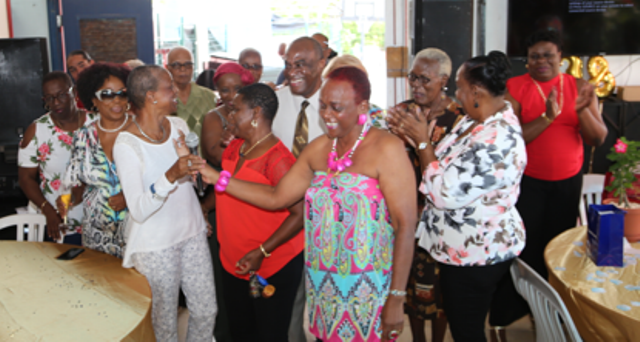 The highlight of the gathering however, was the attendance of many of Mr. David's former colleagues from his days working at Landsradio, now UTS, and also former TelEm colleagues. Also present were members of Stanley's family: Wife Catherine, daughter, Tamika Yhan, Brother Oscar and Sister-In-Law Felicia Arrindell-Illis.
Many spoke with fondness about Mr. David's worth ethics and particularly about his ability to be calm under any circumstances – a part of his personality that was repeated time and again during the two-hour celebration, following by dancing and socializing.
Amongst those speaking on behalf of the retiree was Manager, Customer Care Veronica Browne, who said she had worked with Stanley for the past 18 years and had come to depend on him as a mentor, colleague and friend.
She said the celebration was very emotional at times, bringing some to tears even before it had begun.
"He will be very much missed, not only by the department, but also by the many people in the community who interacted with Stanley on a daily basis," she said.
TelEm Group Chief Executive Officer (CEO) Mr. Kendall Dupersoy and Chief Financial Officer (CFO) Mrs. Helma Etnel, paid tribute to the long-serving worker, and wished him much success and happiness in his retirement, after thanking him for his sterling contribution over the years.
A toast in Mr. David's honour was left to Chief Commercial Officer (CCO) Mr. Brian Mingo, who jokingly outlined the do's and don'ts of retirement for Stanley, while SMCU president, Mr. Ludson Evers, praised Stanley and other workers like him who have given many years of service to the company and warrant this type of recognition.
For his part, Mr. David explained that the temperament to which everyone referred came from his days working in the hospitality industry as a waiter in a restaurant where he was trained to be patient and courteous at all times – especially under pressure.
"TelEm is a great company and it is very sad to be leaving after all these years, but it is time to give some years back to my family, my wife, and my granddaughter especially  who have been looking forward to this day," said Mr. David.
He thanked his TelEm Group family for their "unbelievable" surprise, noting that they pulled out all the stops to make him feel loved and appreciated. He also had special words of thanks for his former colleagues from Landsradio and also former workers of TelEm Group who turned out to join in this retirement event.
Manager, Customer Care, Veronica Browne stated: "For us in Customer Care, who face the public every day, 38 years is something special to celebrate and I want to thank everyone in the department for exceeding all of my expectations in what they put together for Stanley. It was a send-off that will never be repeated and will be remembered for many years to come here at TelEm," said the Ms. Browne.
She additionally praised Customer Service representative, Careen Jones for the well-planned event, dubbing her "Party Planner of the Year."
"Compliments are still being received for the degree of thought that went into the celebration for Stanley and we want to thank everyone, also management, for their full cooperation," said Veronica.