Today, Lieutenant Colonel Jonathan F. McGowen relinquished command of the United States Forward Operating Locations (USFOL) in Curaçao and Aruba to Lieutenant Colonel James E. Wells. The Change of Command is a time-honored military tradition which symbolizes the continuation of leadership and unit identity despite the change in individual authority. Passing the ceremonial flag from the old commander to the new commander physically represents this transfer.
Present at the ceremony were Colonel Kim Campbell, Commander of the 612th Theater Operations Group and 47th Air Expeditionary Group, Headquarters Twelfth Air Force, Davis Monthan Air Force Base, AZ, Deputy Governor of Curacao Nolda Romer-Kenepa, Commodore Hans Lodder, Prime Minister of Curacao Eugene Rhuggenaath and his cabinet member Ministers Zita Jesus-Leito, Quincy Girigorie, Marilyn Alcala-Walle, and Kenneth Gijsbertha, and other invited guests.
Lieutenant Colonel Jonathan W. McGowen distinguished himself in the performance of outstanding service to the United States as Commander, Detachment 2, 6l2th Theater Operations Group, Headquarters Twelfth Air Force (Air Forces Southern), Curaçao and Aruba USFOLs. During this period, Colonel McGowen unified the efforts of 381 military and civilian personnel supporting 274 counterdrug missions leading to 568 arrests and the seizure of illegal narcotics worth 3 billion dollars.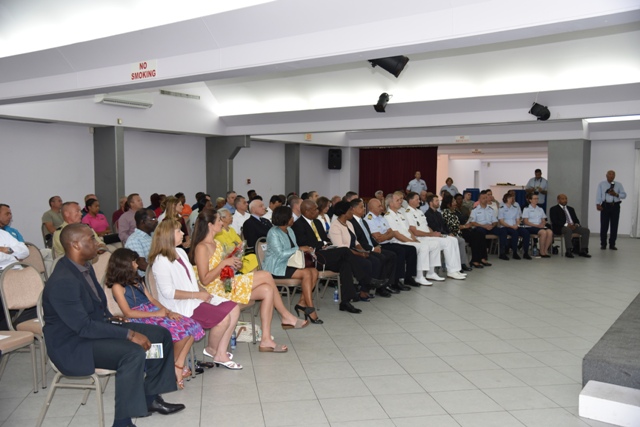 Additionally, Colonel McGowen oversaw the base anti-riot exercise that combined United States Air Force security forces members with 180 personnel from the Dutch military, the Volunteer Corps of Curacao, and the United States Consulate, helping to improve multinational operations and emergency response.    His successor, Lieutenant Colonel James E. Wells was Director of Staff for the 552nd Air Control Wing at Tinker Air Force Base in Oklahoma. He supported the Wing and Vice Commanders and three Group Commanders by leading 16 Wing staff functions, developed strategic planning objectives and facilitating battle staff management and execution. Additionally, he represented the Wing Commander's position at external forums and manages all Wing-level tasking's and correspondence.
The USFOLs in Curacao and Aruba, 429th Expeditionary Operations Squadron, supports multinational aircraft operations that conduct detection, monitoring, and tracking missions that play an important role in counter-drug efforts in the region. USFOL Curaçao was established as a result of a multilateral agreement between the Kingdom of the Netherlands and the United States whereby aircraft and crews deploy to the USFOL on a temporary basis to conduct counter-drug operations.