On Thursday June 1st, 2017 Social & Health Insurances SZV launched its Simplified Customer Experiences campaign at its offices and online via www.szv.sx. SZV introduced the new service desks for Employers, Employees & Insured, Medical and Seniors & Benefits that come with new information resources and self-service tools based on identified customer needs. It was a celebration at the offices of SZV as customers were welcomed by hosts, received a briefing on the new services, directives and demonstrations of the online tools, each customer also received a goody bag filled with new information booklets and handy gadgets.
Over the past two years, SZV has dedicated itself to identifying the customer needs as it pertains to customer service. The results of customer feedback and several satisfaction surveys, including the most recent of 2016, indicated three main challenges for SZV in the area of customer service. These being; waiting time, information & communication and stakeholder collaboration.
"These challenges are continuously being addressed, as customers do testify that improvements have been made over the years. This is a very proud moment for us and we are sure that our customers will appreciate these new changes."
The new service concept will kick-off a series of new developments within SZV that will improve the customer experience and introduce more hassle free contact options. Over the past months SZV staff has undergone a series of trainings to be able to adapt to the new dedicated service desks, offering the most full-service experience possible to customers. The motto here is 'every customer helped', where waiting time and back and forth is reduced as much as possible. The new online tools available via the website www.szv.sx also enables customers with self-service options that will be useful for persons before they need to visit SZV and in some cases even eliminate the need to visit or call SZV. The majority of SZV's procedures, required documentation and FAQ's are outlined on the website based on the customer type or service type; Employers, Employees & Insured, Medical and Seniors & Benefits.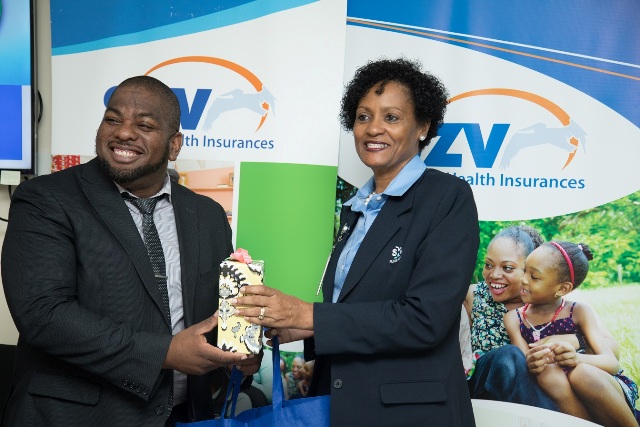 SZV also welcomes companies and employers to celebrate as well. The latest addition to the services of the Employer desk of SZV can be found online. Employers can now submit their monthly ZV and OV declarations online without the need to visit SZV offices. The service has received great reviews during its pilot phase and several local businesses such as the Windward Islands Bank, Princess Juliana Airport and Bobby's Marina are already actively using the option to submit online.
"The benefits of declaring your ZV/OV premium online via the SZV Employer portal and pay online via your bank application are now available for all employers on Sint Maarten. SZV offers employers the possibility to declare and pay their monthly ZV/OV premium on a 24/7 basis. There are no limitations when it comes to office opening hours, standing in long lines and parking problems".