The execution of the 'Expansion of Liseo Boneriano' construction project in the Hato neighbourhood on Bonaire was officially launched with a joint photo opportunity near the construction billboard.
The existing school complex on Kaya Amsterdam, Bonaire, currently comprises two building sections and a square. This now will be expanded by another two building sections and a roofed courtyard. The new building sections are scheduled to be put into service at the start of the 2018/2019 academic year. After completion of the new building sections all MAVO, HAVO and VWO students will be housed at one location. The vmbo, mbo and PrO programmes of the Scholen Gemeenschap Bonaire [SGB] will continue to be housed on Kaya Korona. The hired contractor has already started the first activities. A three-dimensional impression of the design can be inspected on the architect's website www.atelierpro/nl, under projects.
The realisation of this building project is part of the educational buildings plan for Bonaire, which is co-financed by the Public Entity Bonaire and the Ministry of Education, Culture and Science [Ministerie van Onderwijs, Cultuur en Wetenschap, hereafter referred to as OCW]. The Central Government Real Estate Agency coordinates the execution of the different projects which are part of this plan, on behalf of the Public Entity Bonaire and OCW.
The design is by the architect combination Jacobs Architekten from Bonaire and Atelier PRO from the Netherlands. The expansion of Liseo Boneriano is constructed by the contractor VOF, BonNed – Haafkes from Bonaire, under the direction of Jacobs Architekten.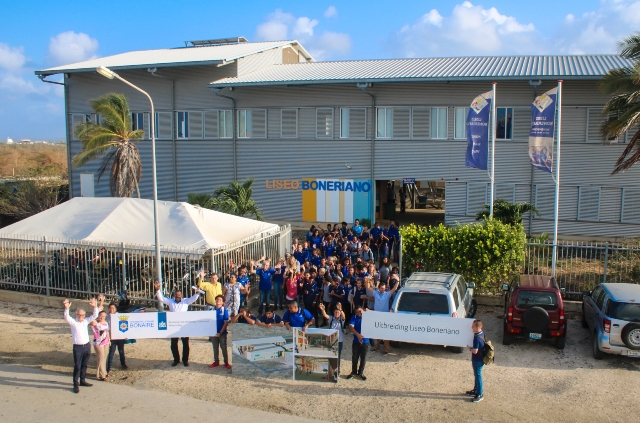 By now this is the second educational buildings project for the SGB; the reconstruction of the sports gyms at Kaya Korona was launched earlier, in December 2016. Other planned accommodation projects for the SGB are the renovation / new building construction for the vmbo, mbo and PrO programmes on Kaya Korona.
Educational buildings projects which were realised earlier on Bonaire include the renovation of the San Bernardo School in 2014, the new building construction for the Strea Briante (formerly Watapana) School and the new building construction for Skol Amplio Papa Cornes.