On Tuesday March 7th veteran fireman James Hassell of the Caribbean Netherlands Fire Brigade was promoted to Shift Leader. This took place in a brief ceremony where Local Commander of the Fire Brigade section Saba, Julio Every, presented Hassell with his Decree and his stripes. "At BKCN we invest a great deal in the training and education of our personnel. I am both glad and proud to finally be able to call James Shift Leader Hassell", BKCN General Commander, Jair Tromp. Shift Leader is considered the most important position within a Fire Department, both during an incident and during activities on a shift. The Shift Leader determines how a shift is run.
James Hassell first began working with the Saba Fire Department in the late 1980's. During the transition of the Fire Department to a Central Government operated department on 10-10-10 Hassell had already been working 12 years as a Fireman. He is presently working a total of 7 years for the Caribbean Netherlands Fire Department (BKCN) bringing the total to 27 service years. "I began working for the Fire Department between 1989/1990 and the experiences I have gained while working were beyond my expectations. I thoroughly enjoy working at the Department. I have a good working relationship with all of my colleagues and look forward to continued good cooperation in the coming years", says James Hassell.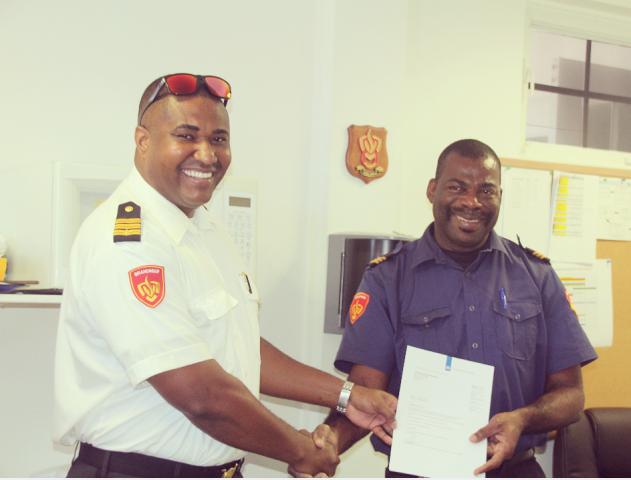 Prior being promoted to Shift Leader James Hassell held the position of  crew member B (Manschap B). In 2016 he participated in the training Shift Leader. The training, which took part on the islands of the Caribbean Netherlands, St. Maarten and partly in Europe, lasted approximately ten months. Training in The Netherlands and Germany, respectively included visits to training facilities WEEZE and the Dutch Royal Air Force in Woensdrecht. The training comprised both a practical and theoretical aspect.
Before this most recent training for Shift Leader Hassell successfully completed the IFV Instructors course. He is a Dutch Fire Academy certified Instructor and a Rope Rescue Instructor. Furthermore, he has also received Airport Rescue and Firefighting training at Schiphol Fire Department.