SCELL, The University of St. Martin's School of Continuing Education and Life Long Learning, held the first day of its Supervisory 2-Day Boot Camp on Tuesday, September 20 at USM. The second day of the Boot Camp will be held on Wednesday, September 21st, 2016.
The training was well received by St. Martin business community and over 120 participants registered.  Just to name a few of the organizations:  Princess Juliana Airport, White & Yellow Cross, Total Cleaning, Telem Group, Port of St. Maarten, N.V. GEBE, L 'Esperance Hotel, TEATT, Orco Bank, Nagico Bank, First Caribbean Bank, Travel Planners and many more.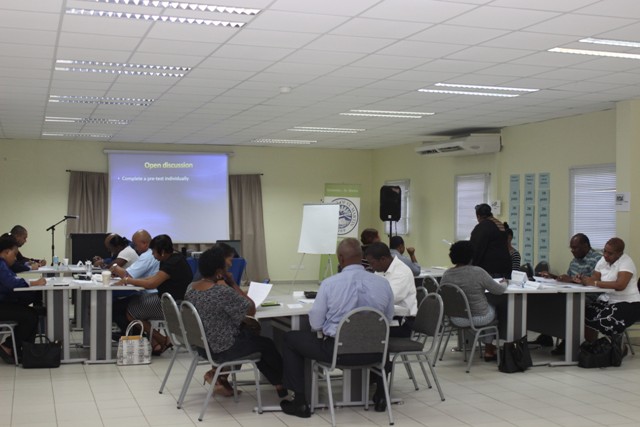 The Supervisory 2-Day Boot Camp introduced participants to key traits and characteristics of effective Supervisors.  In addition, participants were introduced to topics such as: Communication Styles & Methods, Leadership Traits, Coaching & Mentoring techniques, Active Listening Skills & most importantly how to empower employees to excel in their positions.
Supervisors left the Boot Camp looking forward to Day Two and ready to apply the skills they learned utilizing 21st century role playing exercises, real world scenarios and engaging in cooperative and collaborative learning exercises.
Dr. Natasha Gittens, Director of SCELL stated: SCELL has planned a follow up session for all attending participants in November.  We understand that training is not effective unless participants are able to apply their new knowledge, receive constructive feedback and participate in round table discussions with their peers.  I encourage organizations that did not register employees to attend this phenomenal training register for the upcoming Supervisory Boot camps on:  September 27 & 28th & October 18th & 19th.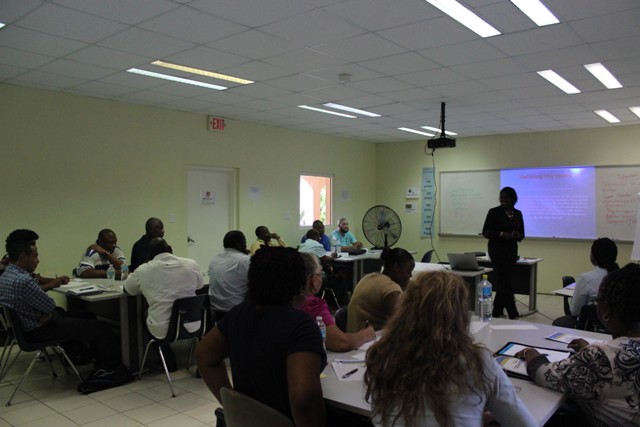 Supervisors were very impressed with Day One of the Boot Camp and stated:
"The presenter was well prepared for the training and it met my satisfaction to the highest level. "
"The workshop was positive, engaging and left you wanting more! "
"The instructor listened to the participants, delivered information we needed and made us feel valued and important! Go SCELL!
"I am so happy that finally there is an organization like SCELL on the island that understands that professionals need training and offers the right trainings professionally with information  worth listening too."
For more information regarding SCELL's Bootcamps, please contact Ms. Reenis @ 543-3710 or 554-2437 or email Micheline.Reenis@usm.sx. Visit SCELL online @ http://www.scell.usmonline.onl/