Out of the 900 teachers in primary and secondary education on Sint Maarten, almost one hundred percent signed up for the Technology in Education conference or C-TEC, that took place on November 12 and 13 at the grounds of the Milton Peters College in Cul de Sac. In addition, 10 plus other Caribbean islands including the Caricom and Dutch islands were represented.
The first day was dedicated to an audience of primary school educators, who could choose from an array of more than fifty different workshops that were conducted by presenters from Sint Maarten and overseas. All conceivable dimensions of applying twenty-first century technology in education were on offer. Some workshops dealt with software programs like Edmodo, Prezi or just the intricacies of Microsoft Office. Others focused on the use of interactive whiteboards, or the incorporation of handheld devices, should we use more tablets in the classroom? Further meetings were held on the policy side of these developments. How do we implement all of this in our schools, or more important still, can we afford it financially? But at the end of the day, the main question turned out to be: can we afford not to introduce these twenty first century approaches in educating our youth?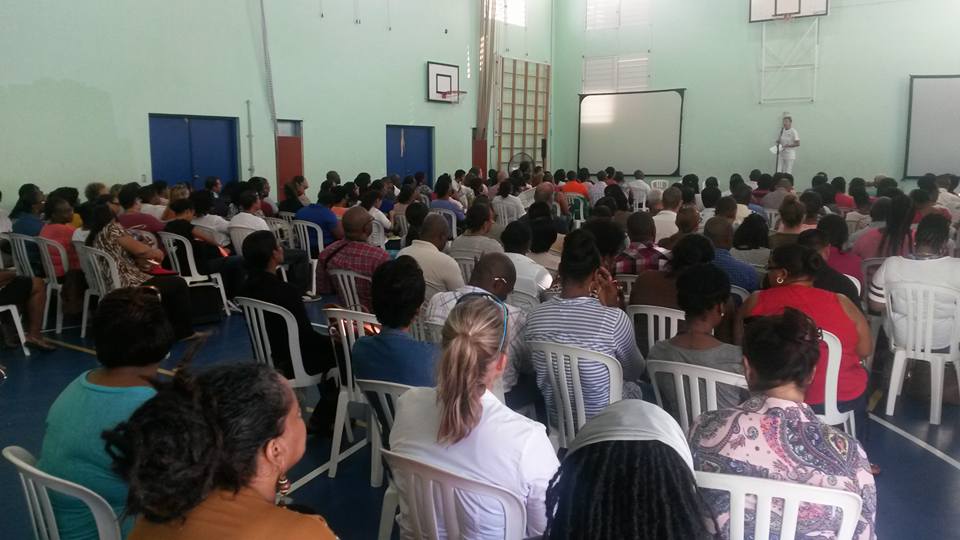 The first day of the conference was slightly busier than the second, as the primary school teachers are a larger number than our secondary school educators. However, they had more workshops to choose from as well, so the almost 500 attendees formed a busy honeycomb of participants hurrying from one workshop to the next. The Milton Peters College proved to be a fitting and efficient location for this intricately coordinated event.
The second day of the conference was specifically geared towards an audience of secondary and tertiary educators. Again, every school was represented by virtually their entire teaching staff, and many support staff and management. This group also had almost fifty different workshops to choose from spread out over the entire day. The great majority of meetings were fully booked in advance by virtue of the system of on-line workshop choice and registering.
Furthermore, a large team of volunteers, themselves higher-form secondary schools students, took care of scanning the barcode printed on the nametag of every participant. This way the attendance of every single session was recorded, and each participant will be provided with his or her certificate of participation accordingly.
While the vast majority of presentations were conducted by local teachers sharing their experience, about a quarter of the workshops were delivered by overseas experts from Antigua, Anguilla, Jamaica, Curaçao, the US Virgin Islands, the Netherlands and the USA. The international presenters were very impressed with the drive and passion of St. Maarten educators and indicated that they can't wait to come back to St. Maarten next year.
Simultaneously to the workshops, an assembly of local and international providers of computer devices, management software, ICT services, communication and educational soft- and hardware, populated an exposition that was frequented the entire day by interested teachers, school officials and policy makers. Local businesses Keijzer Computers, Boolchand's, Klass electronics, Office World as well as Telem and UTS were present to present their technical contributions to twenty-first century learning. They were accompanied by a number of international providers as Skool Netherlands, providing educational management solutions, International educational publisher Houghton Mifflin Hartcourt, educational business partner PowerUpEDu from Atlanta, USA, Infotrans Curacao and E-Learning Company Jamaica, all providing educational digital solutions in line with 21st century learning
The initial feedback on both days was extremely positive. Many in attendance voiced their appreciation for the wide array of expertise and information available in lectures as well as hands-on workshops and displays, and declared to be inspired to apply these technologies in their own teaching environment in the future.
It was noted that this was the first major event organized on Sint Maarten around the theme of Technology in Education, and certainly the largest of its kind. It was appreciated that the organizing committee consisted practically entirely of dedicated volunteers, and the event was organized with very limited preparation time and relatively little means. All of these circumstances taken into account, the two-day event proceeded almost without a glitch. Further evaluation data will be collected via on on-line questionnaire that all participants are currently prompted to fill out as both participants and exhibitors, locally and internationally envision an annual event, which will contribute also to St. Maarten's economy, already having received commitments from international corporate companies in the educational and Technology world.
True to the groundbreaking character of the conference, the intense use of internet bandwidth eventually got the better of the available infrastructure, causing a – temporary – loss of internet availability at the end of day two due to a most probably overheated rauter. Even this however was quickly restored, and serves as a reminder that our local internet infrastructure will have to be strengthened alongside the introduction of cutting-edge technology in the classroom. However, it was a unique event that if not for first time ever, both UTS and Telem teamed up and offered a total of 100 MB internet speed during the conference. This shows the way how country St. Maarten should move forward by collaborating and offer and display the best towards education. Big thumbs up for our two main local internet providers. The organizers are however extremely grateful to the local internet providers for pushing the envelope in facilitating the conference with the largest bandwidth currently possible within their present means, and even more.
For more information about the Foresee Foundation and the C-TEC event surf to: http://www.digikidzsxm.com, http://www.ctec-conference.com, or C-TEC on facebook.