Critically Endangered Hawksbill Sea Turtles Brought Safely to the Ocean
On Friday evening the St. Maarten Nature Foundation was alerted to the Hatching of a critically endangered hawksbill sea turtle nest in the vicinity of the Hard Rock Café on Great Bay Beach. Upon arrival on seen several dozen critically endangered sea turtles were found disoriented along the beach due to the light from the various establishments along the Boardwalk. Some hatchlings were even found close to restaurant and headed to the direction of Front Street. With the help of many citizens, including many youth in full Halloween costumes, all of the hatchlings were brought to the ocean. "Sea Turtles are very sensitive to light and use the reflection of the stars and the moon on the water to navigate to the sea. Because there is so much artificial light on Great Bay Beach the turtles become disoriented and go the wrong way. Usually this is not so much of an issue because most turtles nest on Guana Bay, but because of the situation with the Sargasso Seaweed they seemed to have skipped that beach and have chosen Great Bay instead. We need to urgently sit down with stakeholders to discuss how we can mitigate the effects of artificial lights during the Sea Turtle Nesting Season. With the help of many citizens and especially some children and older youth we were able to assist the animals in reaching the sea," commented Nature Foundation Manager Tadzio Bervoets.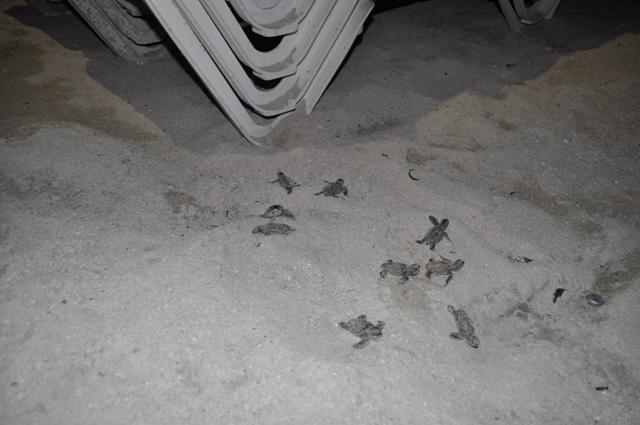 Sea turtle population numbers have plummeted to dangerously low numbers throughout the past century due to human impacts, bringing many species close to extinction and causing them to be listed as critically endangered. In order to reverse this trend, all sea turtle species are now protected by international laws and treaties as well as local laws. Based on ARTICLE 16 and 17 of the Nature Conservation Ordinance St. Maarten it is illegal to kill, wound, capture, pick-up, have animals that belong to a protected animal species, to directly or indirectly disturb their environment resulting in a physical threat or damage to the fauna or to commit other acts which result in disturbance of the animal. It is also forbidden to upset an animal belonging to a protected species, to disturb damage or destroy its nest, lair, or breeding place, as well as to take the nest of such an animal. Also, it is forbidden to pick-up or to destroy the eggs of animals belonging to a protected species.