Tourism accounts for a substantial part of employment on the islands of Caribbean Netherlands. On Bonaire and Saba, 20 percent of jobs are tourism-related, versus 12 percent on St Eustatius. In the rest of the Netherlands, tourism accounts for 8 percent of jobs. Statistics Netherlands (CBS) reports that the government sector is by far the largest employer on the islands of Caribbean Netherlands.
The number of employee jobs in Caribbean Netherlands totalled 9.5 thousand in 2014, marginally down from 2013. On the larger island of Bonaire, there are approximately 7.8 thousand jobs. Apart from government and tourism, several hundreds of people are employed in the sectors trade, construction and financial and business services. The smaller islands of St Eustatius and Saba account for 1.1 thousand and 0.7 thousand employee jobs respectively.
The average annual wage in Caribbean Netherlands was 24,420 US dollars in 2014, an increase by 1 percent relative to 2013. On average, wages were highest on St Eustatius and lowest on Bonaire.
Structure of employment different from European part of the Netherlands
The distribution of jobs over the various sectors on the islands differs from the rest of the Netherlands. Proportionally, employment in the tourism sector is more than twice as high as in the Netherlands. The share of government jobs is also much larger than in the Netherlands. The absolute number of jobs on the islands is fairly low. As a result, the number of jobs at local government level is relatively high.
What also plays a part is the fact that a number of facilities (like specialist medical care) and business sectors (like agriculture and business services) are hardly or not all present on the islands. Hence, the structure of employment is quite different from the rest of the Netherlands.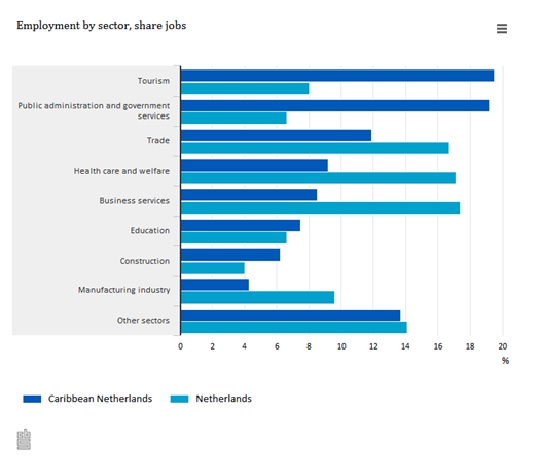 Sources:
http://statline.cbs.nl/Statweb/publication/?VW=D&DM=SLNL&PA=81433NED&D1=0&D2=0&D3=0&D4=0&D5=0,2,5-9,12-17,19-20,23-25,27-28&D6=l&HD=151019-1133&HDR=T&STB=G1,G2,G3,G4,G5
http://statline.cbs.nl/Statweb/publication/?VW=D&DM=SLNL&PA=82519NED&D1=0&D2=0&D3=a&D4=a&D5=2-3&HD=151019-0830&HDR=G4,G3&STB=G1,T,G2