Over 200 people came out to celebrate St. Martin's spectacular migratory birds at the 2015 Migratory Bird Festival, which was held Saturday at University of St. Martin. The Migratory Bird Festival is a free, annual public Wildlife Discovery Event created by Les Fruits de Mer for residents and visitors to see and learn about the island's many migratory species and their extraordinary journeys.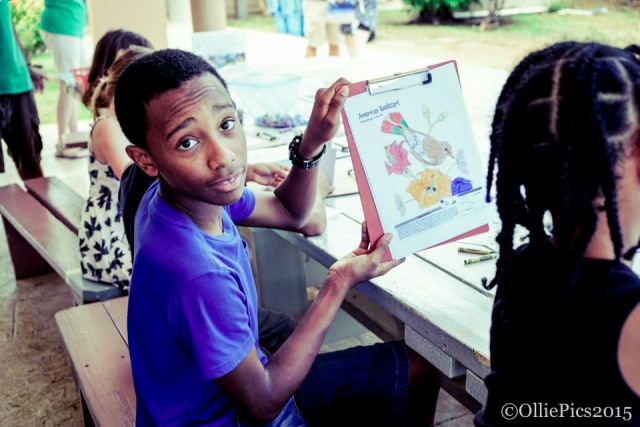 One of the highlights of the event was the Heritage Salt Presentation and Walk led by Dr. Jay Haviser, Director of the St. Maarten Archaeological Center (SIMARC). Attendees flocked to the standing-room-only presentation about the history and cultural heritage of salt on St. Martin, followed by a walking tour of the salt pans and other historic structures visible in the Great Salt Pond, one of the island's most important heritage sites and bird habitats. An exhibition panel about salt production and history was also on view at the event. "The Great Salt Pond is historically important for both birds and people," explained Jenn Yerkes, President of Les Fruits de Mer. "These structures that we can still see from the time of salt exploitation–the stone walls, the levees and poles that are tangible traces of a past which is sometimes invisible–also happen to be great places for observing birds and other wildlife. It's a truly unique intersection of natural and cultural heritage. People really want to engage with their history and culture in ways like this. In fact, Dr. Haviser's presentation was so crowded it was clear we'll need a bigger room next time!"
Also extremely popular with eventgoers were the birdwatching tours of the Great Salt Pond, led regularly throughout the Festival by professional birding guide and Nature Foundation Board Member Binkie van Es. Even a sudden heavy cloudburst couldn't dampen the enthusiasm of people of all ages who learned to use binoculars and bird ID cards to spot Laughing Gulls, Spotted Sandpipers, Great Blue Herons, and other migratory bird species as well as year-round residents like Snowy Egrets, Brown Pelicans, and Magnificent Frigatebirds.
The event's assembly room was packed throughout the Festival for a series of fascinating multimedia presentations. Special guest presenters from Anguilla National Trust, Devon Carter and Giovanni Hughes, showcased a conservation technique¬¬—rat eradication—that has been a resounding success on Anguilla's Dog Island and could be a solution for threatened populations of birds and other wildlife on St. Martin's islets. EPIC Environmental Educator Laura Bijnsdorp focused on the wetlands that make St. Martin such a crucial spot for thousands of migratory birds every year. Adults and kids alike got to meet the migratory birds of St. Martin, find out about their amazing voyages, and learn where to find them here on the island from naturalist Mark Yokoyama's "Incredible Journeys" presentation.
Free Gaïac seedlings were distributed at the Club Gaïac station, where Festival-goers got to know this beautiful endangered heritage tree by looking at cross-sections of its wood, viewing demonstrations of its amazing density, learning about its life cycle and historical uses, and discovering how restoring the island's native trees like the Gaïac helps birds by restoring their habitats.
Attendees also learned about what happens to St. Martin's birds and bird habitats during drought at the Shadow of a Drought Exhibition, got an up-close look with microscopes and magnifying boxes at the wetland critters that provide food for migratory birds at the Portable Pond Observation Station, and made hundreds of migratory bird-themed cards at the Happy Bird-day Card art workshop.
Les Fruits de Mer partnered with MadTwoz Association to bring a bus of youth from Sandy Ground to enjoy a day of nature, science, art, and fun at the event. Educators and youth organization leaders who are interested in arranging group trips to future Les Fruits de Mer events are encouraged to contact the association.
"We're thrilled that everyone had such a great time at this year's Festival," said Yerkes. "The experts' presentations were totally packed, new activities like the Happy Bird-day Card workshop, the Shadow of a Drought Exhibition, and the Heritage Salt Presentation and Walk were a real hit, and Les Fruits had more new member sign-ups than any event yet! We couldn't have done it without the best volunteers in the world, and our awesome event sponsors, Hotel L'Esplanade, Calmos Cafe, Delta Petroleum and Aqua Mania Adventures."
Les Fruits de Mer's next Wildlife Discovery Event will be Birds & Bugs 2015, a free celebration of St. Martin's incredible insects and fantastic forest birds, coming up in early December at Loterie Farm.