On Wednesday October 7th at approximately 12.45 p.m., while on the L.B. Scot road, a patrol from the Multi Disciplinary Team attempted to stop a white Mitsubishi Galant with heavily tinted windows, with license plate P-389 in order to conduct a routine control. The driver of the vehicle sped off at very high speed in the direction of the Church Hill round-a-bout when the officers approached the vehicle. The officers chased after the vehicle and reaching the intersection of L.B. Scot road and Isis road the driver of the vehicle made an abrupt left turn into Isis road causing a collision with the oncoming traffic, which was a silver colored vehicle with license plate M-7706, causing this vehicle to impact a concrete wall and a light pole. The P-389 then hit a parked car with license plate M-8209 and came to a stop. The driver of the P-389 then jumped out of the car and took of running in the attempt to get away from the police. Police officers chased the suspect on foot and apprehended him shortly after.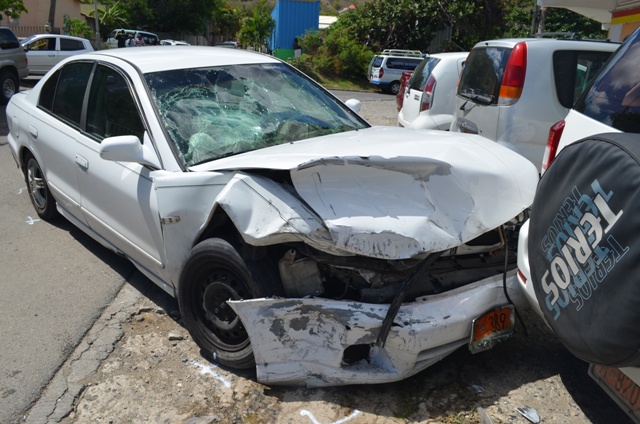 The driver of the M-7706 complained of severe pain in his chest and was transported by ambulance to the Sint Maarten Medical Center for further treatment, after treatment by paramedics on the scene. The suspect who injured his leg while fleeing from police was also taken to the Sint Maarten Medical Center for treatment and then release in police custody.
Traffic on the L.B. Scot road was partially closed of and traffic was diverted to other roads to get in and out of the Sint Peters area. The Police Traffic Department and detectives are conducting their investigation to find out what caused the suspect-driver to conduct himself that way.