KRALENDIJK/THE HAGUE — Ban Boneiru Bèk and OCAN have entered into a strategic cooperation agreement. The organizations mutually focus on matching the right candidates (professionals) with vacancies within the Kingdom. They aim to hit the ground running by combining their respective areas of expertise and in doing so will work towards future shared ventures. The chairmen of the two organizations Celia Fernandes Pedra (BBB) and Glenn Helberg (OCAN) formalized the partnership agreement on October 4th 2014.
Based on Bonaire, Ban Boneiru Bèk, the organization that promotes the remigration of Bonairians, operates a popular recruitment website (www.banboneirubek.com/) that attracts a large following of job seekers overseas wishing to establish or re-establish themselves on the island of Bonaire. OCAN, the organization that defends the interests of Dutch Caribbean citizens in the Netherlands, has expanded its target group to include the Dutch Caribbean islands and first ventured into the field of recruitment one year ago. OCAN has been approached by several employers since this expansion and has successfully delivered skilled candidates – consisting of persons of Dutch Caribbean origin and others with a strong connection to the islands – to its clients. Ban Boneiru Bèk and OCAN are no strangers to each other.
Website for job vacancies, internships and personal development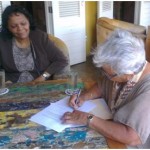 The two parties have identified a number of benefits to combining their rich networks and resources. In doing so, both parties aim to continue contributing towards talent development and the improvement of the labour market position of the Dutch Caribbean community. Aside from job vacancies, internships and personal development tracks will also be offered.  From this cooperation a vacancy website shall emerge that will serve Bonaire, Saba and St. Eustatius in the initial stage. This new venture will cater primarily to the Kingdom government, island governments and the education & healthcare sectors. Once can also look forward to seeing the partners at fairs.
Ban Boneiru Bèk and OCAN aim to build a prosperous society through a balanced structure with citizens with whom the islands occupy a special place in their hearts and who are able and wish to contribute sustainably.