The world is mourning a Caribbean legend after the death of Dominican-born fashion designer Oscar de la Renta, who passed away on Monday night at the age of 82.
The world-famous son of Santo Domingo was born to a Dominican mother and a Puerto Rican father.
After moving to Madrid to study at 18, de la Renta began a journey that would make him one of the the top designers in the world and steward of a global fashion empire.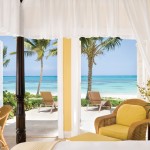 And his design empire extended beyond clothing, with de la Renta even designing the 30-room Tortuga Bay hotel in the Puntacana Resort & Club in his home country of the Dominican Republic (a resort that includes an eponymous boutique).
It was the first hotel de la Renta had ever designed.