Breast Cancer survivor Member of Parliament (MP)-Elect Tamara Leonard made a presentation about breast cancer to St. Dominic Primary School fifth and sixth graders last week as a way to equip the pupils to encourage family and friends to take part in the #CheckYoBreast Challenge.
Leonard led the pupils in role played about how they can approach adults about checking their breasts for possible breast cancer lumps. "I did not do a full awareness presentation, because other foundations do that. I agree that one message should be sent to the community as far as educating people (adults and children) on the topic of breast cancer awareness."
St. Dominic Primary School invited Leonard to share her story about battling breast cancer and getting the children involved in spreading the message of early detection being the best prevention against breast cancer.
Bebe n Kids, Klass Electronics and Blue Point are part in the #CheckYoBreast challenge. Children have to encourage women to get their breasts checked and get a signed doctor's certificate attesting to the examination being carried out. Prizes such as laptops and tablets will be awarded to the children whose names show up the most on certificates delivered to Bebe n Kids.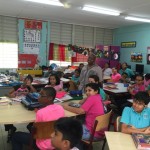 The fifth and sixth graders of St. Dominic were given the #CheckYoBreast certificates to present to adults. Adults have to take the certificates to their doctor who will conduct the test and stamp and sign the certificates for drop off at Bebe n Kids by October 25.
#CheckYoBreast certificates are also available at Bebe n Kids.