The official portrait of His Majesty King Willem-Alexander got a prominent place in the university hall where the first Kingdom Youth Parliament had its meetings in May of this year as part of the official celebrations of the 200th birthday of our Kingdom. HRH Princess Beatrix must have felt very much at home with her oldest son looking down at her while she gave her opening speech.
As a final 'thank you' for the warm, professional and friendly way in which the Pasanggrahan Hotel hosted the KYP the organizers decided to leave the King on Sint Maarten. Here he will join his parents Princess Beatrix and Prince Claus, grandmother Queen Juliana and great-grandmother Queen Wilhelmina in the Royal Portrait Gallery of the Pasanggrahan Hotel.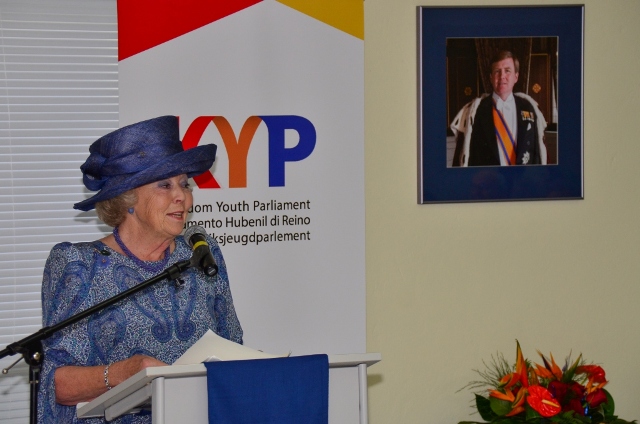 Today the President of the KYP Foundation, Ron van der Veer, presented the portrait to the owner of the Pasanggrahan Hotel, Mrs. Oli Tinitali .
Both agreed that the KYP had been a very special event for all involved: "The enthusiasm, creativity and energy of that group of 50 young people overwhelmed all of us. It was indeed a pleasure to be in their company!"