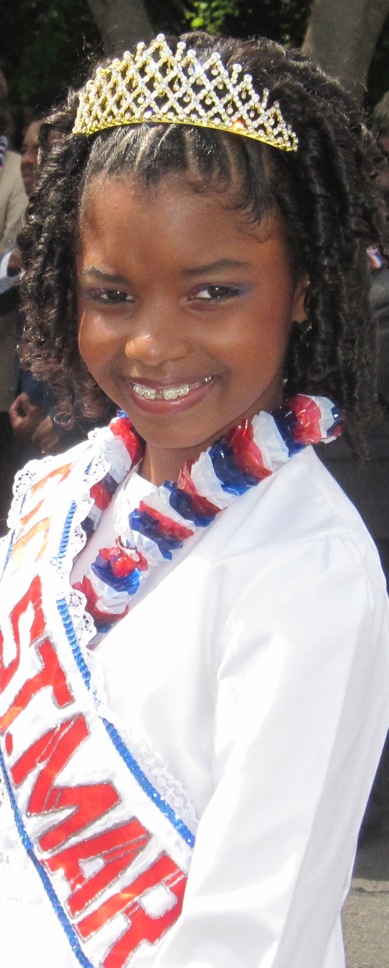 Caption: Genesis Meyers, Little Miss St. Martin (2012) as a storyteller at Jubilee library on July 6, 2013.
The "Summer Storytime with Queen Genesis Meyers" at the Philipsburg Jubilee Library is set for July 6, 2013, at 11 AM, said Nzinga Lake, organizer of the program hosted by the "Little Miss St. Martin" pageant.
Genesis Meyers, the reigning "Little Miss St. Martin," will be the youth celebrity at the free storytelling program, along with another island star, the newly published storybook, Lizzy Lizard by Robin Boasman.
Genesis, 12, "is busy practicing for her storytelling role, which is one of her duties as the Little Miss St. Martin queen, to promote academic excellence," said Lake.
"One way of boosting our children's learning potential and enjoyment of their island and world environment, is simply by making books an integral part of their lives at a very young age," said Lake.
"When I saw and read Lizzy Lizard by Robin Boasman, I knew it would be an excellent first choice for the Little Miss St. Martin Queen Genesis Meyers to read at our storytelling program, and as the first book for our planned book club for boys and girls," said Lake.
"Lizzy Lizard is creative and imaginative, it gives the readers and parents an adventurous, historical tour of our island and it has colorful characters," said Lake.
First-time author Robin Boasman will be invited to the reading as a special guest, confirmed her publisher HNP. "We are also encouraging parents, big sisters and brothers to bring their siblings, cousins, and friends to the storytelling event," said Lake.
The benefits of the storytelling program for the pageant queen is for her "to meet and greet her community and library officials; and to be involved in activities where she can express herself and gain valuable communication skills," said Lake.
"Such a program also involves Genesis at a young age with the idea and practice of giving back to her community as a positive role model. At the same time, she gets a chance to serve as an ambassador for her school, peers, family, neighborhood, and St. Maarten/St. Martin as a whole," said Lake. Genesis is a St. Dominic High School student.