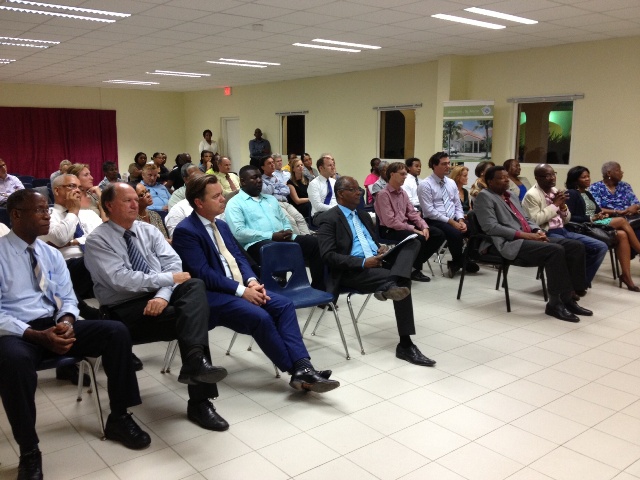 "We know where we came from and we have a very clear understanding of where we are going. We know what needs to be done in order to make this company continue to grow, in order to meet the needs of all agents and brokers and all policy holders", said CEO of NAGICO Group of Companies, Imran McSood Amjad during the NAGICO mid-year conference held at Westin Dawn Beach Resort on Friday, June 14th .
NAGICO Insurances paid a tribute to honor their agents from 19 territories across the region. Motivational speaker Nicole Bendaly spoke to agents and staff at the 'Engaged' themed conference held by NAGICO. CFO, Justin Woods discussed the financial highlights of the company during the conference.
Later in the evening during the Agents Awards Dinner Imran McSood Amjad discussed the plans for the growth of the company. He revealed many goals including plans to open a NAGICO training center by 2020, "this is a place that people will be trained in insurance and other areas that are of importance to the development of NAGICO".
During the dinner NAGICO commended its agents and brokers for their contributions towards successful production in 2012. Century Insurance (BVI) was honored with the Platinum award for having the highest production figures in 2012. Followed by Diamond award winners; Sun Insurance N.V., Northeastern Insurances N.V., Fairplay (Anguilla), Henderson Insurances N.V. and Brysons Insurance Agency (Antigua). A total of 80 awards from 15 different categories were presented to agents and brokers.
Special awards consisted of the following; Aruba Insurance Brokers N.V. and CGM Gallagher Ltd. (St. Lucia) which were named Most Improved Agents. Brysons Insurance Agency and Century Insurance were named Agents of the Year. Local Agent of the Year representing St. Maarten, Saba and St. Eustatius was awarded to Sun Insurances Group. Arlene Bermudez from BAICO (Curacao) was awarded as Top Life Producer. NAGICO Trinidad was named Branch Office of the Year. Brysons Insurance Agency was also awarded for being the Most Profitable Agent of the Year. Century Insurance went home with the overall award for being the Most Outstanding Agent of NAGICO Group.
Loyalty Awards were presented as a token of appreciation in recognition toward agents who have been in business with NAGICO for over 20 year the five agents were; Quincy Gumbs from Fairplay (Anguilla), Steve Tackling Sr. from Tackling Insurance, Desmond Esdaille from Peoples Insurance, Bernice Stout from Insurance Store (BVI) and Estelle Serrant from Serrant Insurance.
The MC of the evening King Beau Beau concluded the dinner with performances by Mischulaikah Richardson, Kayla Gumbs and the house band Mosaik. The evening ended with an after party where agents and staff enjoyed music and dancing.
Caption for picture: Century Insurance (BVI) was presented with the award for being the Most Outstanding Agent of NAGICO Group. From left to right Christopher Henriques, Exexcutive Manager of Trinidad and Tobago; Shan Mohamed, Managing Director of Century Insurance; Stacey Roberts and Niasha Penn from Century Insurance; Rena Amjad and Imran McSood Amjad, CEO of NAGICO Group of Companies.