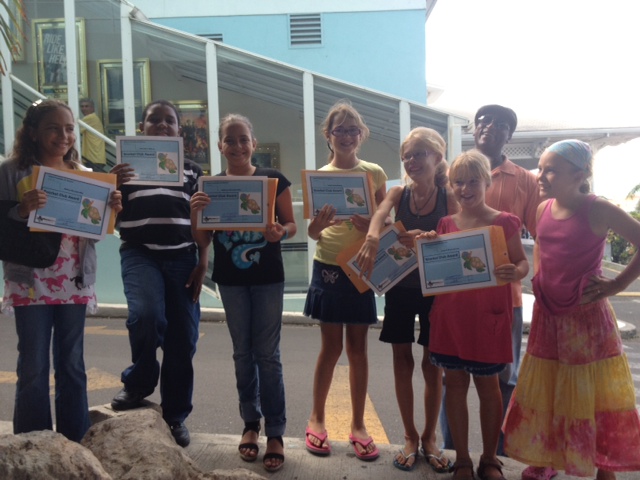 Caption: Last Year's Snorkel Club Students at the Graduation Event of Finding Nemo 3D with Nature Foundation Chief Ranger and Snorkel Club Instructor Etienne Lake
Nature Foundation also offering adult version of popular Environmental Education Activity
Nature Foundation will once again start its after school Snorkel Club Program on Wednesday June 26th 2013. The Nature Foundation, in a continued effort to educate and stress the important role the youth plays in the future of nature conservation on this island, established the Snorkel Club program with the aim of educating local youth in snorkeling skills and marine conservation. Children will be given a total of ten lessons with each lesson consisting of both theory and practical elements.
Lessons will include snorkeling skills, marine naturalist courses, and introduction to SCUBA diving, hiking tours, and a special closing activity. Children who attend the Snorkel Club are given a copy of the How to Snorkel Manual, a Nature Foundation T-shirt, Fish Identification Cards and wetsuits for sun protection, all of which they can keep.
An extra activity this year centered on Nature Education is a program focused on the adult population. "Oftentimes we hear from even Snorkel Club parents that they would also like to be introduced to the Marine Environment of St. Maarten. Whereas before we focused on the kids, this year we will be offering specialized introductory excursions as part of the 'Adult Snorkel Club', where we will introduce adults to the wonders of the sea that they might not have had the opportunity to experience.
Interested parents and adults can contact the Nature Foundation at 5444267 or via email at info@naturefoundationsxm.org. For Information on both programs. The Snorkel Club for kids will be held every Wednesday from two to four pm and every Saturday from nine to eleven am and costs only twenty five guilders for the ten lessons. Parents are urged to register their children early due to limited space.
The Adult Snorkel Club will be on an individual basis and interested persons are urged to contact the Nature Foundation to register.