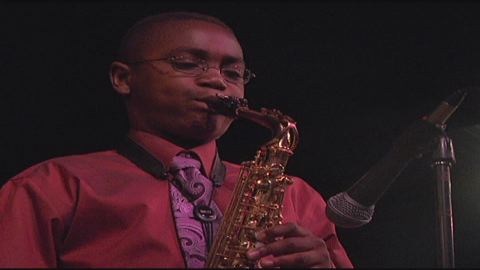 In a musical genre dominated by musicians five times his age, an 11-year-old from Binghamton is making his mark.
According to Channel 12 WBNG Action News, Kenijah Georges, (son of St. Kitts' music icon and composer of the National Anthem, Mr. Kenrick Georges,) has been playing the saxophone for just a few years, but he's already hitting a note with seasoned jazz professionals.
"When you see Kenijah play, you go ' Holy Cow' how's that coming out of that little kid like that?'" said Mike Carbone, professor of jazz at Binghamton University. "I wish I could have done that when I was 11 years old."
In the article, headlined: Saxophonist, 11, plays beyond his years (with photos) by Perry Russom, he said, for him, jazz is something he feels.
"It's just a way to express yourself," said Kenijah. "Jazz is more colorful. You can do almost anything you want with it."
Carbone said part of Kenijah's success stems from his parents. He grew up with music in his home and his parents often take him to jazz concerts.
Kenijah practices in a studio his father created in their basement two hours a day.
"He gets it from all sides," said Kenijah's father Kenrick. "There's a lot of love, a lot of courage. He works hard."
Four times a month, you can find Kenijah at the Lost Dog Cafe or at the Firehouse Stage playing for a live audience.
He said his energy feeds off of his crowd.
"I just think if people really like my performance, then I should stick with it," Kenijah said.
With his age group full of Justin Bieber fanatics, he's taken a more mature taste in favourite artists.
He loves Charlie Parker and Miles Davis and listens to them every night before he goes to bed.
"Their songs are creative," he said. "I like creative songs and they add a lot of texture to them."
Kenijah admits he still has a long way to go before he's considered world class, but he's set on getting there.
Up next for Kenijah is composing his own music — and finishing the sixth grade.