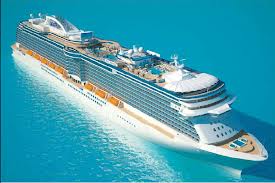 PHOTO CUTLINE: Royal Princess
The Port of St. Maarten will receive calls from the 3,600 passenger Royal Princess Cruise ship for the 2013-2014 cruise season starting in November. The Royal Princess is the first of two new-generation ships for Princess Cruises which are being built by Fincantieri at their Italy shipyard.
Royal Princess arrives in Southhampton, UK on Friday, June 7. The new vessel will start a two three-day preview cruise sailing roundtrip from Southhampton, on June 10 and 13 before embarking on its inaugural program of a 12-day Grand Mediterranean cruise between Barcelona and Venice beginning on June 23, but before that, the Royal Princess will sail on her inaugural voyage, a seven-day Iberia cruise from Southhampton to Barcelona departing June 16.
A Port of St. Maarten delegation comprising of Richard van der Mark, Senior Project Manager and Humphrey Mezas, Supervisory Board member, will represent the port and country on the three-day preview cruise.
Her Royal Highness The Duchess of Cambridge will name Royal Princess, in a ceremony on June 13, and this will be the highlight of week-long inaugural celebrations to welcome the vessel into service.
Chief Executive Officer (CEO) Mark Mingo of the St. Maarten Harbour Group of Companies is looking forward to welcoming another new vessel to the Port of St. Maarten in November.
"St. Maarten/St. Martin continues to be the destination of choice, and because of this, Princess Cruise Lines and the port have a great partnership which makes it a win-win for both. We look forward to continuing working with our partners in order to maintain our preferred cruise destination status," CEO Mark Mingo said.