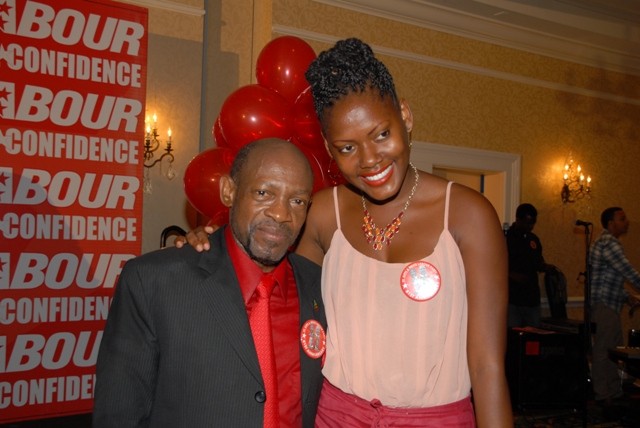 A 19-year-old Sandy Pointer says the St. Kitts-Nevis Labour Party in government for the past 18 years has been creating choices for him and thousands of other young people that were denied their parents by the previous People's Action Movement (PAM).
"I am proud labour. Like the thousands of nationals, I too, have benefitted from the policies of the Labour Government. Like many of our ambitious citizens, I too aspire to a better life. In the coming years, I will use the opportunities provided to become not only a lawyer, but will also emerge as a political analyst," said Delonte Lewis, a student at the Clarence Fitzroy Bryant College (CFBC).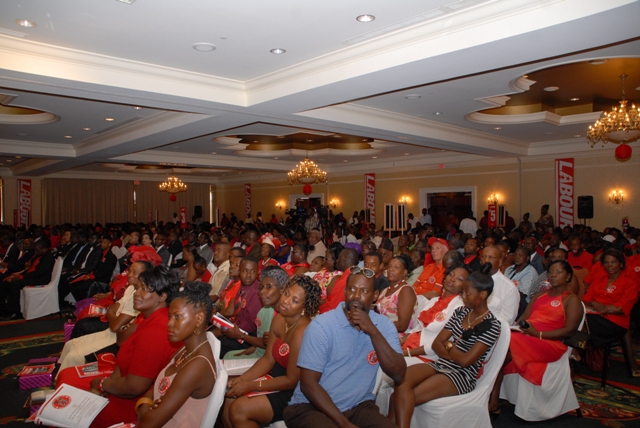 Given the honour to introduce the National Political Leader of the St. Kitts-Nevis Labour Party and the Prime Minister of the Federation of St. Kitts and Nevis, Lewis said:
"The Labour Party through Government is creating choices for me and others whose parents were denied the opportunities. As a young student of politics I have studied the work of our previous political leaders and we all can see the progress and development which have improved all our lives. Today we are all inspired by the leadership of our great party. We should celebrate the leadership of our great party. We say thank you to our previous leaders, their Right Excellencies Sir Robert Bradshaw, Sir Paul Southwell, Sir Joseph N. France and Sir Lee Moore Q.C. More importantly comrades, ladies and gentlemen today we stand in full confidence with the leadership of the Right Honourable Dr. Denzil Douglas."
He expressed confidence that the Labour Party leadership will continue to inspire and implement positive changes for all the people.
"Today, we have proven to be an unstoppable force and we must publicly thank our Political leader for his vision, commitment and leadership towards the development of our country and our people. Honourable Prime Minister please be assured that we the people have listened and know the importance for us to 'fall-in' as a nation. We stand in full confidence with you, your leadership, your team and your Labour Government."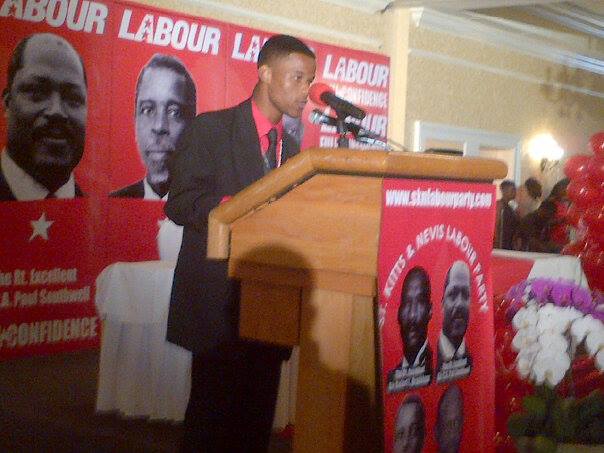 "Our leader the Rt. Honourable Denzil Douglas has invested in our people. He has provided millions of dollars to young persons for scholarships. Our students have continuous opportunities to study in Mexico, Taiwan, United States, United States Virgin Islands, Venezuela, Cuba and here in the Caribbean at the UWI. In fact, this year over 42 applications have been received under the Taiwan Scholarship Programme," said Mr. Lewis, a second year student who is pursuing courses in law, sociology, business management and Caribbean studies.
Stoutly defending the Labour Party's record of youth empowerment and commitment to the youth, Lewis noted the appointment Dr. Denzil Douglas in the early 1970's as the Young Labour Representative to serve on the National Executive of the Labour Party.
"Today you still continue to carry the torch for the youths both party wise and nationally. The young people of this country saw the significance of supporting not only a party, but a leader that would have 'capable hands in serious times,' and so today as young people we muster our support, talents and confidence in rallying with the St. Kitts Nevis Labour Party and our leader the Right Dr. Denzil Douglas," said Lewis.
He told the over 700 delegates and invited guests that under Dr. Douglas' visionary leadership, his government has provided over 3,000 laptops for our students and teachers.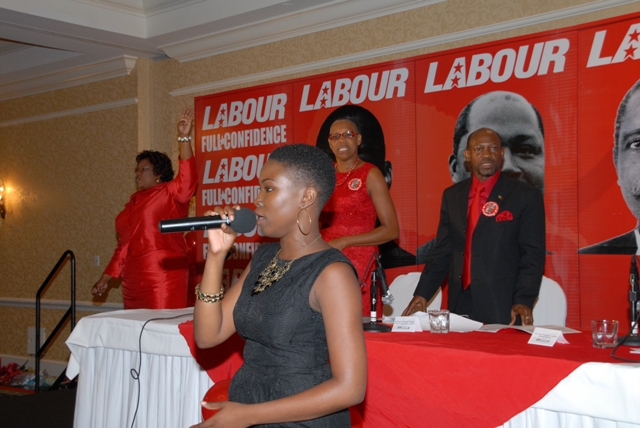 "They are preparing our young people with the skills sets for the global work place. The PEP programme represents work opportunities for over 1,600 young persons. This experience resulted in many of us graduating to full time jobs in the globally competitive marketplace. That is why we have full confidence in Dr. Douglas leadership.
His leadership have provided over 4,000 homes for our families. And more homes are yet to come. Our evolving tourism product has been defined by our policies and strategically marketed under the Douglas Administration. This wealth creating sector has been instrumental in improving the quality of lives for thousands of our families and our citizens," said Lewis.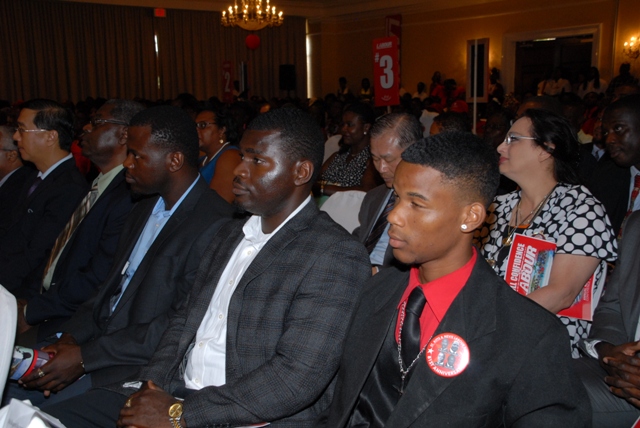 "Comrades, fellow citizens and young people, the strength of Dr. Douglas's vision, tenacity of his character, his loyalty to country and his compassion for people, are virtues and values that we as young people must aspire to. Sir you inspire us, not only to be loyal to our country but more importantly to do what is right for our country. We have full confidence in Labour for we are transforming our lives to succeed in the global village. Friends, that is why for our country to continue moving forward, we need the continued strong and caring leadership to develop a new economy that would unite our people as one.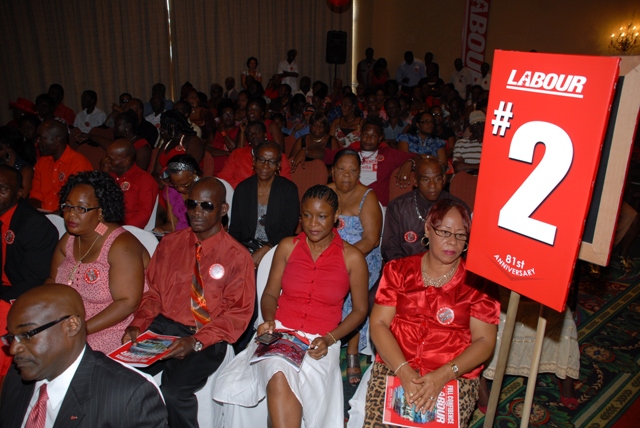 Throughout the work of Dr. Denzil Douglas, he has recognised the virtue of education; the importance of teamwork; and the "citizen's responsibility of leadership". Which we are confident will continue! As young people if we have to succeed in the Global Village we need leadership that will transform our lives. More importantly we must all fall –een to secure our Government. Another Victory! Another Term! Comrade, Ladies and Gentlemen, please joins me in welcoming to the podium our political leader the Dr. the Rt. Honourable Denzil Douglas," said Mr. Lewis as the conference gave Dr. Douglas a standing ovation as he walked to the podium to deliver the conference address.