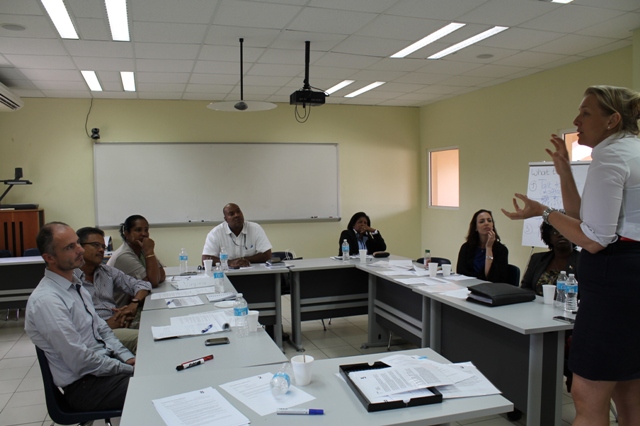 In the week of April 22nd to April 25th 2013 the department of Interior and Kingdom Relations successfuly organized a specialized integrity workshop for the managers of the Public Service of Sint Maarten. Prior to this workshop civil servants had recently been given a general training in dealing with Integrity Dilemma's, morals and values. They focused on behavior and mindset.
The execution of the Integrity program has been a journey which begun in 2010. Thus far it has included internal research, gathering all Integrity stakeholders to come with a proposal for an Integrity vision, which was approved by the Council of Ministers. There has also been a focus on Integrity awareness by means of newsletters, promotional materials and Integrity training. An official Integrity definition and slogan have been established: Integrity at work it starts with me. Signifying that Integrity is important in our daily lives and work and therefore also is a work in progress. The Council of Ministers has agreed to establish an Integrity Bureau for Sint Maarten and we are at the point in that process where work is ongoing towards achieving a Draft Ordinance (Landsverodening Bureau Integriteit).
The workshop for managers was done in the form of a management simulation designed to guide managers through a process of looking at internal vulnerabilities related to Integrity and the internal integrity system. The aim of the exercises was to formulate recommendations related to the government Integrity sytem and present these to the Council of Ministers. Bureau Integriteit Amsterdam was invited to guide the managers through this process and got an opportunity on Thursday April 25th 2013 to present the recommendations to the Council of Ministers.
After reviewing the evaluation of the training, Mrs. Richardson the Integrity Program Manager at the Department of the Interior and Kingdom is very satisfied with the results. The recommendations are for the most part consistent with the Integrity Vision already being executed by above mentioned department. As part of the Integrity program for The Government of Sint Maarten and the Integrity project funded by means of Dutch Development Funds via USONA, the project will continue with the appointment of Persons of Confidence in each Ministry and the estblishment of an Integrity Bureau etc.