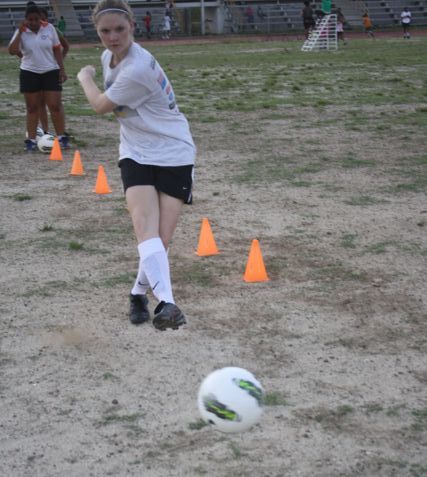 The Oualichi Women's Soccer Team (Oualichi WST) has started to train at the Raoul Illidge Sports Complex in Cay Hill. Previously the islands first women's soccer team was confined to an indoor area that impeded the team's ability to train effectively for their upcoming tournaments.
"We are very happy to announce that we have started to train every Monday and Wednesday at five thirty in the afternoon at the outdoor soccer field at the Raoul Illidge Sport's Complex with head coach Chris Wever," read a Oualichi WST statement. "It is important that we train outdoors since that we will be traveling to Anguilla in June and will be part of the French Side Soccer tournament in July where we will be competing against women's teams from across the Caribbean."
The team has also been given significant sponsorship from the Windward Island Bank, Nagico Insurances and the St. Maarten Soccer Association which has caused them to expand their training capacity. "With the generous sponsorship we are now able to accommodate many more players than we were previously able to. Therefore we are once again open for registration of new players who are interested in playing women's soccer."
The launching of the team in November was a first for St. Maarten, with previously women having to join school teams or train on their own. The name of the team is also unique as Oualichi, one of the original Arawak names for the St. Maarten, means Land of Strong Women. The team also has an official Facebook Page and newsletter in order to keep the community abreast of the country's women's soccer team. For more information please join the Oualichi Soccer Team's Facebook Page and download the newsletter or contact oualichisoccer@gmail.com. Registration is open for interested ladies from fourteen years. Practice is every Monday and Wednesday from five thirty to six forty five.