Captain Henk Danser presented with token of appreciation by Minister Pantophlet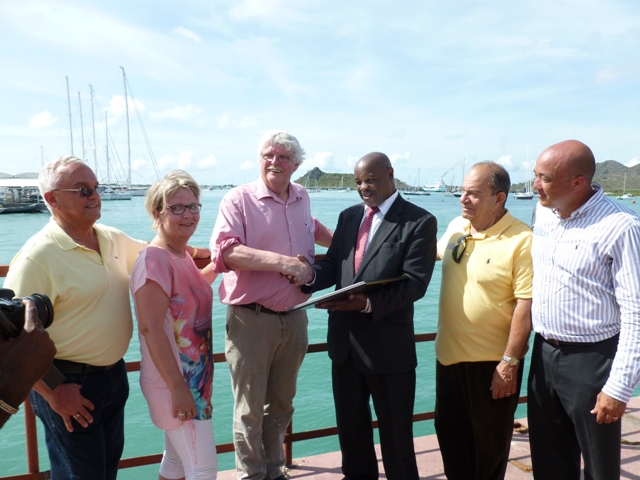 The extended bridge opening for Friday, May 3 lasted less than half an hour as the longest vessel ever to enter the Simpson Bay Lagoon, the Marietje Andrea transited without any hitches to the applause of many onlookers on both sides of the Simpson Bay Bridge.
Minister of Harbour Affairs Hon. Romeo Pantophlet and St. Maarten Harbour Group of Companies (SMHG) Chief Executive Officer (CEO) Mark Mingo were on-board the vessel for the transit through the bridge.
The operation started a little after 1.00pm and by 1.25pm, the vessel had safely cleared the draw bridge and moved through the lagoon to the causeway where it positioned itself for the later transfer of the swing bridge unto its mount on the causeway.
After the safe transit was completed, Minister of Harbour Affairs Hon. Romeo Pantophlet presented a token of appreciation to the Captain of the Marietje Andrea Henk Danser in the presence of members of the Harbour Supervisory Board of Directors, its CEO and Mrs. Danser.
The Minister thanked Captain Danser for his professional seamanship with the North Atlantic Ocean crossing to Sint Maarten and with the seamless transit of the vessel into the lagoon without incident.
Minister Pantophlet also thanked all harbour personnel who played a role in the preparations leading up to the transit of the vessel into the lagoon, as well as the emergency services (Ambulance, Fire Department and Police), public works, contractors and others who in one way or the other played a role.
The Minister also thanked stakeholders for their cooperation in informing their employees and hotel guests, about the bridge opening.
Observations were made that it was a perfect day for the transit to take place as the wind was nearly non-existent.
The 126 meter long (413 feet) cargo transport vessel Marietje Andrea is 15 meters wide (49 feet) and has a gross tonnage of 5418. The longest vessel to ever enter the Simpson Bay Lagoon is the 96 meter (316 feet) mega yacht Limitless. The Andrea is almost 100 feet longer than the Limitless.
The Simpson Bay Lagoon Authority Corporation, is a subsidiary of SMHG, and has an advisory role with respect to Simpson Bay and the Simpson Bay Lagoon.
PHOTO CUTLINE: L to R, Harbour Supervisory Board Director Renald Williams, Mrs. Danser, Capt. Henk Danser, Minister Hon. Romeo Pantophlet, Harbour Supervisory Board Director Humphrey Mezas, and Harbour CEO Mark Mingo.