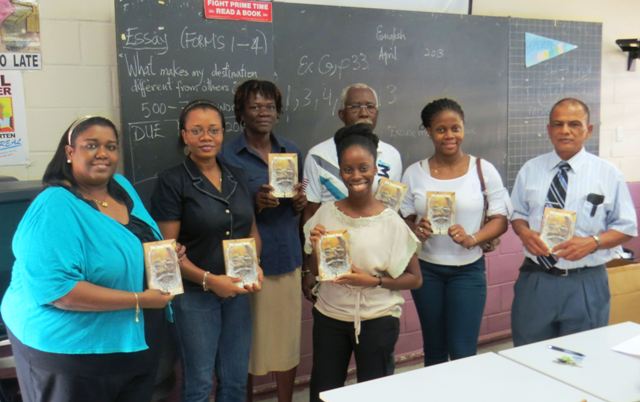 On Friday, the St. Maarten Academy received copies of The Angel Horn by Shake Keane, for each student of its Form 4 and 5 literary classes, said Jacqueline Sample, president of House of Nehesi Publishers (HNP).
The poetry appreciation and HNP reading/writing motivation gift came from the St. Martin Book Fair, which is gearing up for its 11th annual edition from May 30-June 1, 2013.
"As principal of the St. Maarten Academy, we are thankful to the Book Fair Committee for choosing our institution this year to do its pre-Book Fair presentation in the form of books, but mostly thankful to have the author Max Rippon among us today," said Shareed Hussain, principal of the St. Maarten Academy.
Well-known Guadeloupean author, Max Rippon flew in from Marie Galante and took part in the presentation, which he and youngest Book Fair Committee (BFC) member, Akilah Meulens, made to principal Hussain. A favorite book fair returnee writer, Rippon's novels are studied in primary schools in the North of the island.
The Angel Horn is the most comprehensive poetry collection by Keane, one of the fathers of modern Caribbean literature, an educator and a famously innovative jazz trumpeter from St. Vincent, said Sample.
"Young readers can quickly get into many of Shake Keane's poems," said Sample. "We also want youngsters to see, touch, share and enjoy a book of this quality that was published on their home island," said Sample about the 194-page title, published by HNP in 2005.
About 20 students were gathered in the Academy classroom for the presentation. "When one lives on an island the fastest and easiest way to travel the world is through books. You can tour the world by reading books. You are the future and reading will make your future much brighter," said Rippon to the high schoolers.
Pre- and post-Book fair activities have over the years involved schools, senior citizens homes, and libraries on both parts of St. Martin, and the prison in Pointe Blanche, said book fair coordinator Shujah Reiph.
Conscious Lyrics Foundation and HNP are organizing the St. Martin Book Fair 2013 in collaboration with the St. Maarten Tourist Bureau and the University of St. Martin.
Photo caption:
L-R: Tallulah Vanterpool-Baly, head, Students Care, St. Maarten Academy; Kim Luscas-Felix, head, English Department, St. Maarten Academy; Ivonne John, teacher; Rochelle Ward (Faizah Tabasamu), teacher, English literature and language; Max Rippon, poet, novelist; Akilah Meulens, member, BFC; and Shareed Hussain, principal, St. Maarten Academy. (CLF photo)