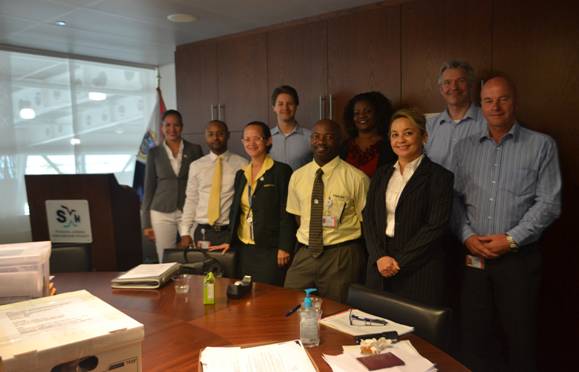 Photo Caption: (L- R, front Row): SXM Airport's Sandy Offringa, Robert Brown, and Suzy Kartokromo, as well as Anastacio Baker, Candidate Civil Law Notary of Gijsbertha Notary firm, Marlene Mingo. (L-R, back row): InterVistas Consultant, Olaf Van Tol, Gijsbertha Notary firm's Charlyse Philips, InterVistas Consultant, Johan Scholvinck and SXM Airport's Max Schakel. (SXM photo)
A combined total of 48 entries were received as the deadline for the submission of Requests for Proposals (RFPs) for the new concessions at SXM Airport closed at 4 PM, Monday, March 25, 2013.
Assisting with the opening of all bids were Civil Law Notary Marlene Mingo, and Charlise Philips, both of the Notary firm Gijsbertha.
Among the selection evaluation criteria are: Height of concession percentage (per category); Business plan: financials. Investment, forecast, NPV; Degree of local employment/involvement; and Store, category and logistics plan.
Other evaluation criteria include: Marketing plan; Management /Human resource plan and Sense of place/design/brand and appearance.
The entire process of evaluation has begun and will continue through this week.
The Request For Proposal (RFP) course of action originally began on January 8, 2013 with the Expression of Interest process. A Site Tour and Information Presentation was held for all the companies/concessionaires who were short-listed after submitting their Expression of Interest Documents on February 26, 2013.
There are 24 concession packages, one for each individual concession, including a 1,000sq. meter large walk-through duty-free store.
Further information related to the process can be obtained from the following members of the Core Team at SXM: Robert Brown, at 546-7555 or 520-7721, or Suzy Kartokromo, at 546-7544 or 520-3044.