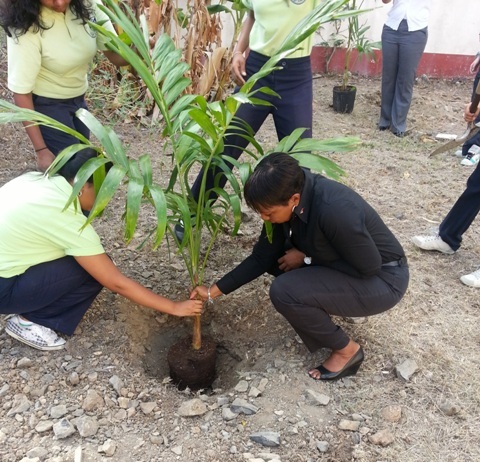 Minister of Education, Culture, Youth and Sports Hon. Silveria Jacobs attended the Tree Planting Ceremony at the Senior Citizen Recreational Center in Hope Estate which was organized by St. Dominic High School IB students.
The idea of the tree planting project was introduced to the faculty of the institution, St. Dominic High School. The aim of this project is to bring awareness to why trees are important to the community. This was done in collaboration with Joslyn Richardson, agriculturalist.
The students used National Tree Day to complete their project. So on this National Tree Day the IB student planted trees at two locations on the island, namely the Senior Citizen Recreational Center and the St. Maarten Medical Center.
In her address to the students present, Minister Jacobs applauds them on their initiatives to do something positive for the environment and the reconnection with nature.
The Minister also expressed that it was her mission to ensure agriculture is established as an important part of the school curriculum, and is pleased to work together with Joslyn Richardson and other stakeholders in this area to see this become a reality.
PHOTO: Minister Silveria Jacobs (right) assisting students with the planting of a tree.