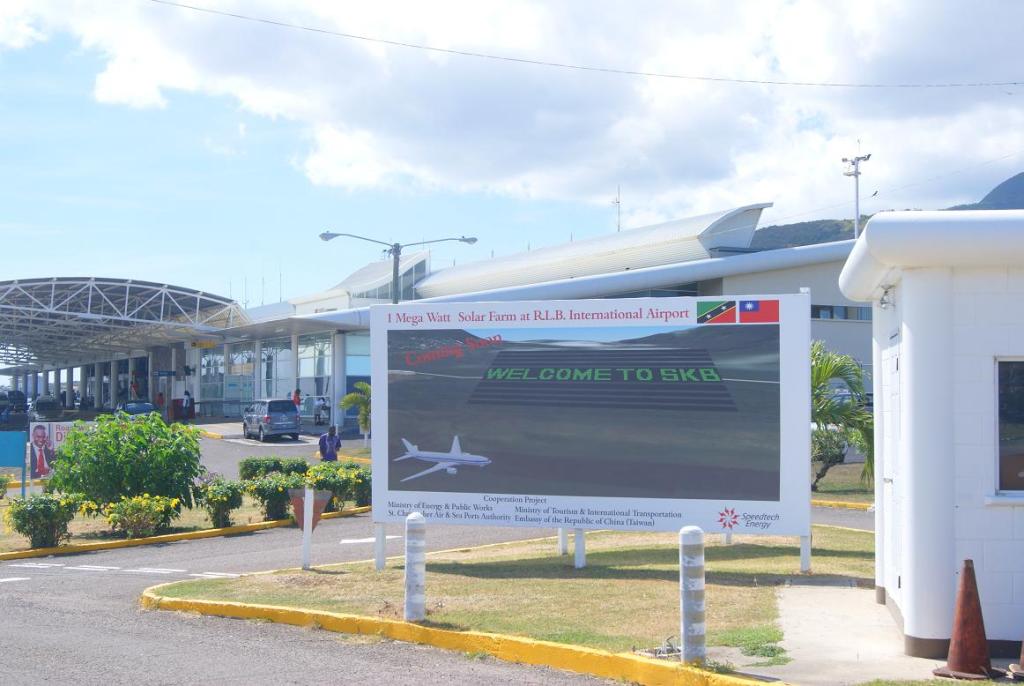 BASSETERRE, ST. KITTS, MARCH 21st 2013 (CUOPM) – Efforts continued Wednesday to convert St. Kitts into a green economy.
Deputy Prime Minister and Minister of Energy, the Hon. Dr. Earl Asim Martin said his Ministry has received a cheque on Wednesday from the Government of the Republic of China (Taiwan) for the construction of a one mega watt solar farm at the Robert L. Bradshaw International Airport.
"We see this not only as a area to provide renewable energy for the St. Christopher Air and Sea Ports Authority, "but as a learning ground, a teaching ground for students to be able to interact with what is happening in the renewable energy field and to be able to see beyond the new Horizon where the Government would want to take our people," Dr. Martin said at Wednesday's Ministerial Press Conference.
"We would want to move the whole society and the whole community in this area," said Dr. Martin, who thanked the Ambassador of the Republic of China, His Excellency Miguel Tsao and SCASPA "for having before sight and the understanding and wanting to join with the Ministry of Energy in the execution of this project."
He commended Ambassador Tsao for his help in moving forward Government's overall renewable energy policy.
"First of all we saw the LED light on the Kim Collins Highway, then the solar street lighting from Sandy Point to St. Paul's and the installation of solar panels on the roof of Government Headquarters. All of these efforts are being made into converting St. Kitts into a green economy. We see a green economy not only as the area of renewable energy, but we see the green economy as a means of providing new opportunities for our people in St. Kitts. New opportunities in terms of local jobs, training of new local solar and green energy technicians who would be available to carry out the agenda of the Government of St. Kitts and Nevis," said Deputy Prime Minister Martin.
He also thanked the Sugar Industry Diversification Foundation (SIDF) for its financial support and the St. Kitts Electricity Corporation (SKELEC) for the technical support they have provided.
Photo of Billboard mounted at the entrance to the Robert L. Bradshaw International Airport announcing the one-megga watt solar farm. (Photo by the Embassy of Tawian)