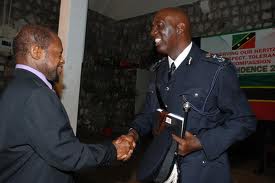 BASSETERRE, ST. KITTS, MARCH 17th 2013 (CUOPM) – St. Kitts and Nevis' Prime Minister the Rt. Hon. Dr. Denzil L. Douglas says time and energy invested by his governing St. Kitts-Nevis Labour Party administration has produced results.
Speaking at the official opening of the New Horizon Rehabilitation Centre in Harris', St. Kitts, Dr. Douglas said the programmes and visits to schools throughout the Federation by the new Commissioner of Police, Mr. C. G. Walwyn have helped the nation's children to think see police officers as approachable and concerned members of society, not simply as individuals who arrest and imprison them.
"And I want you to imagine how secure, safe, happy and pleasant I felt when just a few days ago, when I was at home in St. Pauls, seeing a few constituents; There was a knock on my door and there appeared in the doorway a Sergeant of Police with two constables and said they were simply here to say "hi". They were passing through the village of St. Pauls and my door was open with some people outside who came to see me, and they said Mr Prime Minister we just want to say "hi" as we walk through the streets," Prime Minister Douglas told the gathering.
"That is why the visits of the Commissioner of Police to our Nation's schools, for example, have contributed significantly in this regard," said Dr. Douglas.
File Photo of St. Kitts and Nevis' Prime Minister the Rt. Hon. Dr. Denzil L. Douglas (left) shaking the hands of Commissioner of Police, Mr. C. G. Walwyn (Photo by Erasmus Williams)