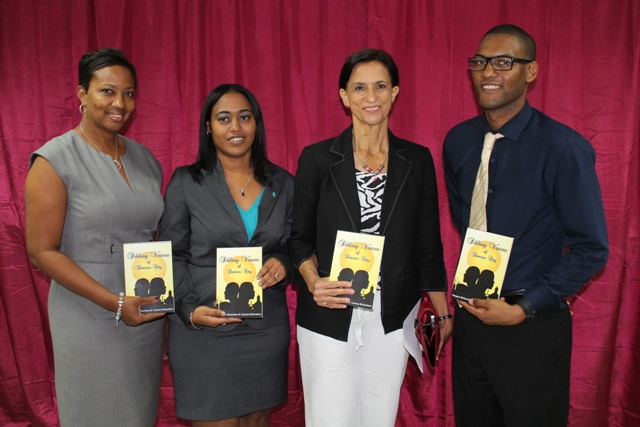 PHOTO CUTLINE: L to R, Minister of Culture Hon. Silveria Jacobs, Tammy Richardson, Prime Minister Hon. Sarah Wescot-Williams and Gregory Richardson. DCOMM Photo
Minister of Culture Hon. Silveria Jacobs was a guest at the book launch of 'Sibling Voices of Sunrise City' by Tammy and Gregory Richardson.
The authors launched their book of poetry and short stories about growing up in Aruba, its ups, downs and lessons learned in love for family and self as well as the development of an identity that bespeaks a combination of St. Maarten and Aruba.
Their words, videos and pictures evoked memories, sighs and laughter from the audience whom willingly took the trip down memory lane.
Minister Jacobs congratulated the siblings on this cross cultural product which serves as a bit of history which many could identify with, whether they'd actually experienced it or just heard stories as told by parents, as in her case.
Literary works are actually art which will stand the test of time. This book launch was a wonderful culmination of the Chuchubi Foundation's celebration of Aruba day and highlighted its main theme which is "strengthening ties between Aruba and St. Maarten".