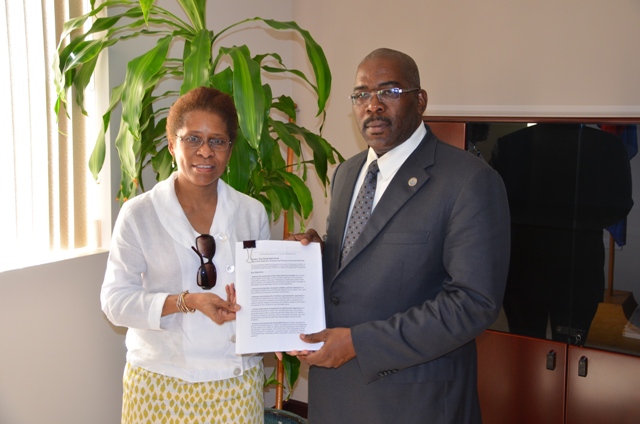 PHOTO CUTLINE: L to R, Jacqueline Sample and President of Parliament Hon. Rodolphe Samuel holding the petition.
President of Parliament Hon. Drs. Rodolphe Samuel received the petition to "Protect the Great Salt Pond"–containing 1,275 signatures–from Jacqueline Sample, president of House of Nehesi Publishers Foundation (HNP).
The petition has been submitted to the St. Maarten government, addressed to Deputy Prime Minister Hon. William Marlin as Minister of VROMI–calling on Parliament "to immediately put in place zoning legislation to conserve the Great Salt Pond from any and all further landfill expansion, dumping, and pollution" in keeping with the five "Key Objectives" in the petition.
The symbolic presentation of the copy of the 52-page document to the President of Parliament, was made in the conference room of Parliament (2/25/13). HNP organized the petition, which was open for signatures on-island and online.