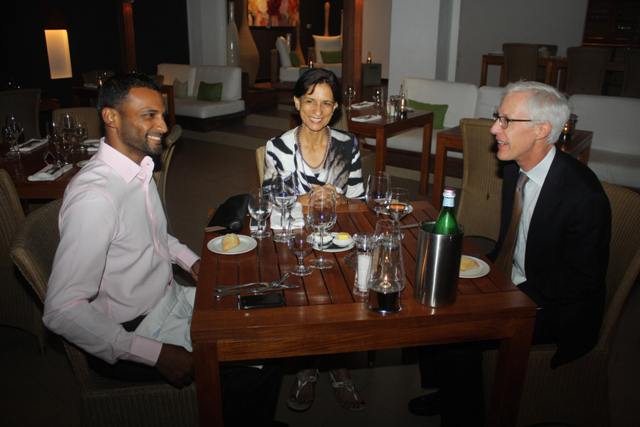 Caption: From left to right Prime Minister Hon. Sarah Wescot-Williams, William Hughson of DeVry and Andy Wescot.
Expansion of AUC Medical School to Contribute Significantly to St. Maarten Economy
The Prime Minister of St. Maarten the Honorable Sarah Wescot-Williams held a dinner meeting on Tuesday evening at Holland House with Mr. William Hughson, President, Healthcare Group and Senior Vice President of DeVry Incorporated.
The Prime Minister and Mr. Hughson, joined by Mr. Andy Wescot, discussed various items related to the continuing success of DeVry's American University of the Caribbean (AUC) Medical School. In May 2012 Prime Minister Wescot-Williams broke ground at the AUC Expansion Project, Phase one of which will provide the infrastructure and capacity for an enrollment of up to 1000 students who will eventually spend on average USD $2.200 monthly on St. Maarten. Construction is slated to be completed by the September 2013 semester
The American University of the Caribbean School of Medicine was founded in 1978, upon a belief in the need for visionary, skilled, compassionate doctors. The AUC was originally chartered by the Government of Montserrat in the British West Indies; however, In 1995 Montserrat's Soufrière Hills Volcano caused the school to be relocated to St. Maarten. In 1998, the School of Medicine completed a new multi-million-dollar teaching and learning facility and in 2002, AUC's modern one and two-bedroom student dormitory was constructed.
The AUC Medical School in Collaboration with the University of St. Maarten provides the opportunity for locals to become future physicians through the provision of scholarships worth up to $ 30.000. The AUC also collaborates very closely with the St. Maarten Medical Center in providing health care to the people of St. Maarten and logistical support through various programs.
William Hughson joined DeVry in 2009 as president of the Healthcare Group, which includes American University of the Caribbean School of Medicine, Carrington College, Carrington College California, Chamberlain College of Nursing, Ross University School of Medicine and Ross University School of Veterinary Medicine.