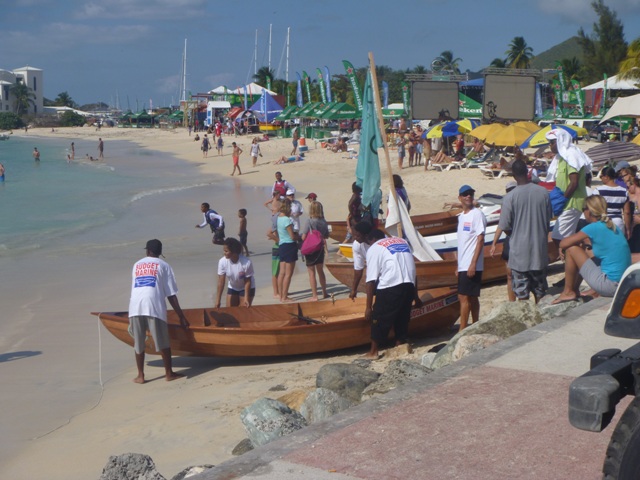 After much hard work and enthusiasm by the students, volunteers, the St. Maarten Sailing School, the Kids at Sea Foundation, the St. Maarten Marine Trades Association's Build Your Future project was successfully launched on Sunday March 3rd on Kim Sha Beach. In attendance was the Minister of Education, Silveria Jacobs and administrators from the participating schools and many cheerleaders. Students of the SBO, CIA, Milton Peters College and St. Dominic's Academy all took to the water for two short and fun rowing races. Though the St Maarten Vocational boat was not quite ready for the launch, their team representative joined with another team to enjoy the fun.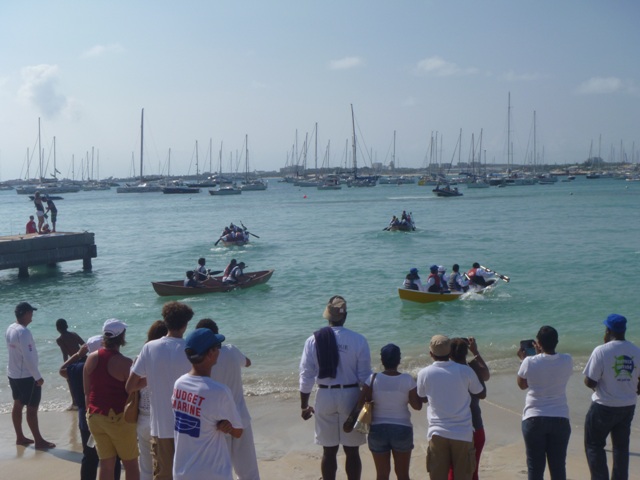 Experiencing the event, SMMTA Vice President Lorraine Talmi said "This initiative has gotten off to a great start, the kids are so excited, the support from the community has been amazing. We hope this will build a love for the sea that will stay with the students long into their lives. It was fun to notice the on water lessons of teamwork, as they learned the difficulty in steering a vessel through synchronized paddling. Some experienced a rather circular or zigzagged course; it didn't seem to matter much, even though one team crossed the finish line first, all of the participants in Build Your Future came away winners!"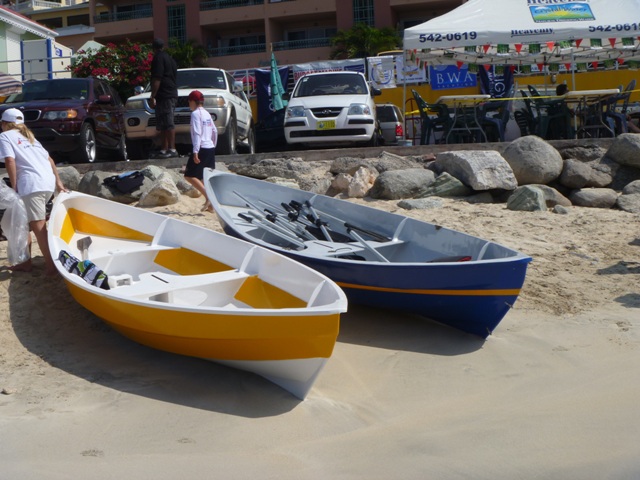 The next step of this initiative is to teach the students to sail the boats and organize frequent interscholastic as well as inter-community competitions. We would like to thank the marine mentors, the businesses and the community as a whole for such overwhelming support and for the great presence at the launch on Sunday. We thank the sponsors Aqua Mania, Budget Marine, BWA Yachting, FKG, IGY Marinas, Island Water World, Kelmador Holding, The St. Maarten Harbour Group, The St. Maarten Sailing School, SXM Sails and The Windward Islands Bank. We also thank the Ministry of Education and all others who have pledged their support for the continuation of the project which aims to teach the students different skills and open their eyes to the many opportunities in the marine industry both in terms of employment and recreation.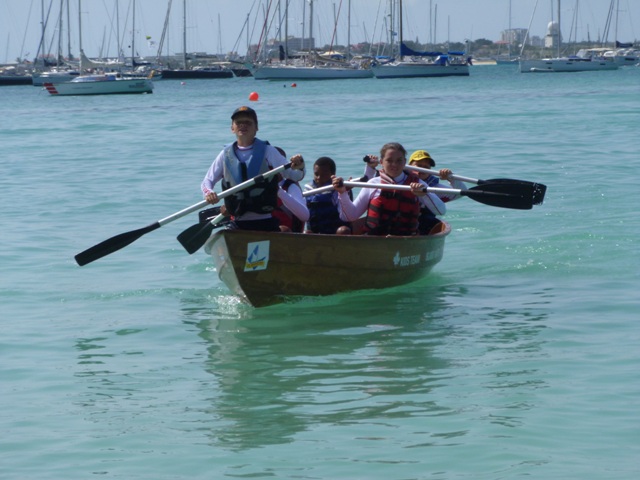 The Build Your Future initiative is applying for the upcoming 'Oranje Fonds Kroonappels' (Crown Apple Awards), voting for the awards will be held online at www.kroonappels.com from March 15 to March 17. We hope that you will support this initiative by voting for it!"