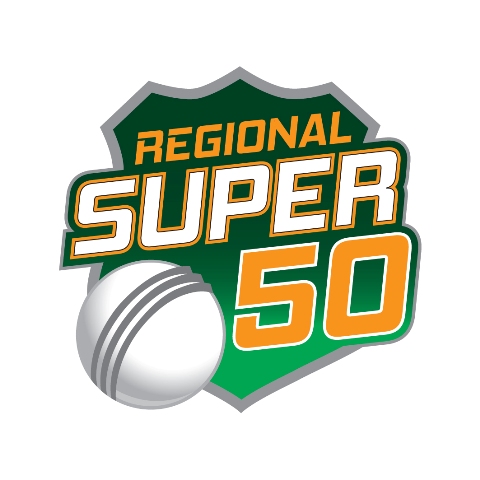 St John's, Antigua – The West Indies Cricket Board today announced a change in the Regional Super50 schedule.
The three Round 4 matches which were scheduled to be played on Tuesday March 12, have been brought forward to Monday March 11.
This change has been effected to avoid a clash with the West Indies v Zimbabwe First Test which commences on March 12 at the Kensington Oval in Barbados.
The venues, match officials and start times for the Super50 matches remain unchanged.
Two of the matches (Trinidad and Tobago v Guyana at Queens Park Oval and CCC v Leewards at 3Ws Oval) are day/night encounters and will commence at 2pm local time while the third match (Jamaica v Windwards at Grenada National Stadium) will be played during the day and is slated to begin at 9:30am.
Following Round 4 there will be a mid-season break. The Super50 will resume on March 21st with three matches in Barbados, Trinidad and Jamaica.
WICB REGIONAL 4 DAY & SUPER50 2013 SCHEDULE
ROUND
DATE
FORMAT
MATCH
HOST
VENUE
BYE
ON FIELD UMPIRES
STANDBY UMPIRES
MATCH REFEREE
Round 1
Thu 7 Feb
SUPER50
Barbados v Jamaica (D/N)
Barbados
Kensington Oval
T&T
Peter Nero & Leslie Reifer Jr
Jonathan Blades
Carlyle Carter
Leewards v Guyana (D/N)
Leewards
SVRCG
Joel Wilson & Danesh Ramdhanie
Brian Joseph
Donovan Hayles
Windwards v CCC (D/N)
Windwards
Beausejour
Nigel Duguid & Zahid Bassarath
Francis Maurice
Patrick Felix
Sat 9 Feb to Tue 12 Feb
4 DAY
Barbados v Jamaica
Barbados
Kensington Oval
T&T
Peter Nero & Leslie Reifer Jr
Jonathan Blades
Carlyle Carter
Leewards v Guyana
Leewards
SVRCG
Joel Wilson & Danesh Ramdhanie
Brian Joseph
Donovan Hayles
Windwards v CCC
Windwards
Beausejour
Nigel Duguid & Zahid Bassarath
Francis Maurice
Patrick Felix
Round 2
Fri 15 Feb to Mon 18 Feb
4 DAY
Windwards v T&T
Windwards
Arnos Vale
Lennox Abraham & Nandkumar Shivsankar
Roger Davis
Selwyn Allen
Barbados v Guyana
Barbados

Kensington Oval
Peter Nero & Nicholas Cook (ENG)
Ryan Willoughby
Mervyn Jones
WED 20 FEB
SUPER50
BARBADOS v GUYANA
BARBADOS

KENSINGTON OVAL
LI
Jonathan Blades & Nicholas Cook (ENG)
Ryan Willoughby
Mervyn Jones
Thu 21 Feb
SUPER50
Jamaica v CCC
Jamaica
Sabina Park
Nigel Duguid & Patrick Gustard
Atol Hamilton
Michael Hylton
Windwards v T&T

Windwards
Arnos Vale
Lennox Abraham & Nandkumar Shivsankar
Roger Davis
Selwyn Allen
Round 3
Sun 24 Feb
SUPER50
Leewards v T&T
Leewards
Warner Park
JA
Norman Malcolm & Carl Tuckett
Leslie Reifer Jr
Colin Stuart
CCC v Barbados (D/N)
CCC
3Ws Oval
Zahid Bassarath & Verdayne Smith
Ryan Willoughby
Carlyle Carter
Windwards v Guyana
Windwards
Arnos Vale
Lennox Abraham & Nicholas Cook (ENG)
Deighton Butler
Selwyn Allen
Wed 27 Feb to Sat 2 Mar
4 DAY
Leewards v T&T
Leewards
Warner Park
JA
Norman Malcolm & Leslie Reifer Jr
Carl Tuckett
Colin Stuart
CCC v Barbados
CCC
3Ws Oval
Zahid Bassarath & Verdayne Smith
Ryan Willoughby
Carlyle Carter
Windwards v Guyana
Windwards
Arnos Vale
Lennox Abraham & Nicholas Cook (ENG)
Deighton Butler
Selwyn Allen
Round 4
Wed 6 to Sat 9 Mar
4 DAY
T&T v Guyana
T&T
Queen's Park Oval
BD
Norman Malcolm & Patrick Gustard
Anthony Sanowar
Hayden Bruce
Windwards v Jamaica
Windwards
GRE Nat. Stadium
Danesh Ramdhanie & Verdayne Smith
Lyndon Rajkumar
Mervyn Jones
CCC v Leewards
CCC
3Ws Oval
Nandkumar Shivsankar & Nicholas Cook (ENG)
Ryan Willoughby
Carlyle Carter
Mon 11 Mar
SUPER50
T&T v Guyana (D/N)
T&T
Queen's Park Oval
BD
Norman Malcolm & Patrick Gustard
Anthony Sanowar
Hayden Bruce
Windwards v Jamaica
Windwards
GRE Nat. Stadium
Danesh Ramdhanie & Verdayne Smith
Lyndon Rajkumar
Mervyn Jones
CCC v Leewards (D/N)
CCC
3Ws Oval
Nandkumar Shivsankar & Jonathan Blades
Ryan Willoughby
Carlyle Carter
MID SEASON BREAK
Round 5
Thu 21 Mar
SUPER50
Barbados v Windwards (D/N)
Barbados

Kensington Oval
GY
T&T v CCC (D/N)
T&T
Queen's Park Oval
Jamaica v Leewards
Jamaica
Sabina Park
Sat 23 to Tue 26 Mar
4 DAY
Barbados v Windwards
Barbados

Kensington Oval
GY
T&T v CCC
T&T
Queen's Park Oval
Jamaica v Leewards
Jamaica
Sabina Park
Round 6
Sat 30 Mar to Tue 2 Apl
4 DAY
CCC v Guyana
CCC
3Ws Oval
WIN
Leewards v Barbados
Leewards
Warner Park
Jamaica v T&T
Jamaica
Sabina Park
Thu 4 Apr
SUPER50
CCC v Guyana (D/N)
CCC
3Ws Oval
WIN
Leewards v Barbados
Leewards
Warner Park
Jamaica v T&T
Jamaica
Sabina Park
Round 7
Sun 7 Apr
SUPER50
Leewards v Windwards (D/N)
Leewards
SVRCG
CCC
Jamaica v Guyana
Jamaica
Sabina Park
T&T v Barbados (D/N)
T&T
Queen's Park Oval
Wed 10 to Sat 13 Apl
4 DAY
Leewards v Windwards
Leewards
SVRCG
CCC
Jamaica v Guyana
Jamaica
Sabina Park
T&T v Barbados
T&T
Queen's Park Oval
SUPER50
Thu 18 Apr
SEMI FINAL 1 (D/N)
Barbados
Kensington Oval
NA
Fri 19 Apr
SEMI FINAL 2 (D/N)
Barbados
Kensington Oval
NA
Sun 21 Apr
FINAL (D/N)
Barbados
Kensington Oval
NA
POSTPONED – RD 2 MATCH
Thu 25 Apr to Sun 28 Apr
4 DAY
Jamaica v CCC
Jamaica
Sabina Park
NA
4 DAY (NEW DATES)
THU 2 MAY to SUN 5 MAY
SEMI FINAL 1 & 2
SF1: 1st place
TBC
NA
SF2: 2nd place
TBC
NA
THU 9 MAY to SUN 12 MAY
FINAL
Higher placed in prelimnary round
TBC
NA