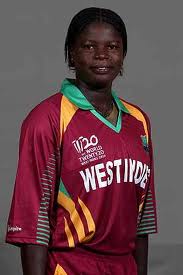 Colombo, Sri Lanka – Ask any member of the West Indies Women's team who is their favourite team-mate and there will be one reply – Tremayne Smartt. The hardworking allrounder has been voted "Miss Congeniality" because of her pleasant personality and friendliness. She's also a committed and dedicated team player with a never-say-die attitude.
The 27-year-old Guyanese found the going tough in the early stages of her international career, but has reaped rewards in recent series and has been a consistent member of the starting line-up. On Sunday she played a leading role as the Windies steamrolled Sri Lanka in the second T20 International at the R Premadasa Stadium.
The medium-pacer was entrusted with the new ball and she took two wickets for 14 runs off four overs as Sri Lanka could only muster 73-8 off 20 overs. The visitors then strolled to 74-4 off 15.4 overs to win by six wickets and take a 2-0 lead in the five-match series. They won the opening match by two wickets off the last ball on Friday.
Smartt's exploits may not be the most eye-catching as some of her team-mates, but with new ball in hand she is a handful for any opposition batting line-up. Her contributions in terms of early wickets and a miserly economy rate have been instrumental for the unprecedented highs the West Indian Women's team have experienced in recent times.
"I come from a large family. We are five girls and five boys – 10 kids in all at home with me being number 9 – so I grew accustomed to being a member of a 'team'. I look out for everyone, that's the way we were brought up to care and look after everyone around," she told WICB Media.
"I have always enjoyed helping people. And cricket can be a great platform to spread cheer and joy in society and as you can see from my dance, I enjoy every moment I spend on the field.
"My family was not really into cricket at the start. When I started to play well and get better, it was then that my family started taking some interest in my cricket and started attending local matches. Growing up we didn't have a television at home, but I used to listen to cricket commentary on the radio. Some of my brothers used to as well, but it was mainly track and field for them."
And from very early on in life, Smartt decided to take up cricket as a career, even if it meant not fitting into the family fabric.
"It started off with under-arm flick cricket before graduating to over-arm cricket with the boys. At school we used to play cricket during our breaks. That's when I really started taking the sport seriously," explained Smartt, who is a certified WICB Coach.
During last month's ICC Women's World Cup she stepped up and forced her way into the team, a result of the work she put in the nets and in every match she played. Her performances helped the Windies to reach the final and move to Number 2 in the ICC One-Day team rankings.
While she started off as an all-rounder, opening both the batting and the bowling for her club, she was touted more for her skills with the new ball. After a consistent run with both bat and ball in 2009 she gained a promotion to the West Indian team, and she has been part of the set-up ever since.
Smartt likes to spend her off-season being involved in coaching and volunteer work – mainly going to schools and encouraging children to take up sport as a career choice and excel in it.
"I like to sit and chat with the girls in the team just try to understand what's going through their minds and help us improve as a team in any way possible," she added.
"I enjoy playing in this team. We have done well for West Indies and we want to get better. The coach and the captain have been doing a great job and once we remain disciplined we will one day be the Number 1 team in world cricket."
TOUR SCHEDULE
One-Day Internationals Series
Friday, February 22: 1st ODI – West Indies won by 4 wickets at Dambulla
Sunday, February 24: 2nd ODI – Sri Lanka won by 4 wickets at Dambulla
Tuesday, February 26: 3rd ODI – West Indies won by 33 runs at at Dambulla
T20 International Series
Friday, March 1:1st T20 – West Indies won by 2 wickets off last ball at R Premadasa
Sunday, March 3: 2nd T20 – West Indies won by 6 wickets at at R Premadasa
Tuesday, March 5: 3rd T20 at R Premadasa – 10 am
Thursday, March 7: 4th T20 at R Premadasa – 10 am
Friday, March 8: 5th T20 at R Premadasa – 10 am