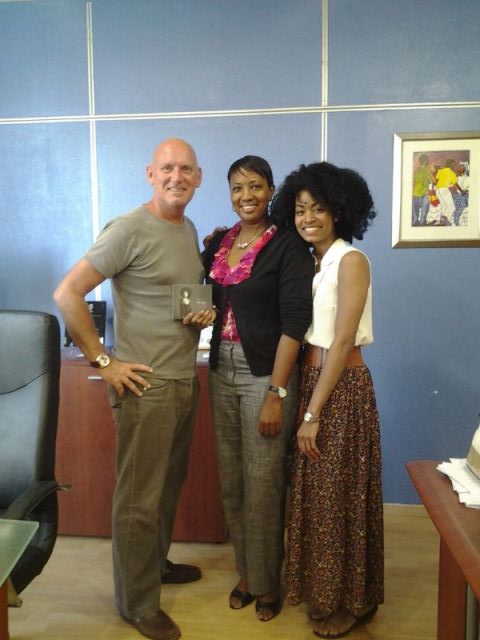 PHOTO CUTLINE: L to R, Jaap van den Heuvel, Minister Hon. Silveria Jacobs and Singer/Song writer Mischu Laikah.
Minster Jacobs met with Singer, Songwriter, Coach & Girls 'N Cocktails web show host Mischu Laikah on February 28th 2013.
Accompanying Mischu was Jaap van den Heuvel who has been assisting Mischu Laikah during her visit and upcoming tour. The multi-talented singer and native of St. Maarten spoke to Minster Jacobs about herself released album 'Back to my Roots', her upcoming mini-tour and her plans to host workshops for young and upcoming artists on how to maneuver their way in the music industry.
Though the core of the workshops will be focused on the pros and cons of the music industry and how to best manage, the singer will also be focus on discovering and knowing who you are and how to be true to yourself.
"I would never have been able to have made it this far and self-release my own album on my own label if I didn't know myself, and remained true to who I am". Mischu Laikah expressed her desire to speak at the different schools on the island about the importance of discovering and cultivating a person's own authenticity.
Minister Jacobs commended the singer for the strides she has made within the music industry and expressed her pride in the young talent and her efforts to put St. Maarten on the map with her music. In addition the Minister pledged her support for the upcoming tour and expressed her enthusiasm for the workshops and personal message the multi-talented Mischu Laikah plans on conveying to young artists, students and the youth in general.
Mischu Laikah, who performed at the 2013 Heineken Regatta on Friday March 1st, currently resides in The Netherlands and will be returning to the island later this year to embark on her mini-tour which will take her to the neighboring islands and St. Maarten.